News Archive 2019
News Archive 2019
Competition and Compromise among Chinese Actors in Africa: A Bureaucratic Politics Study of Chinese Foreign Policy Actors. A new book from Dr Niall Duggan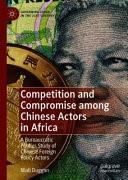 Dr Niall Dugan, a lecturer with the Department of Government and Politics has recently published a book: Competition and Compromise among Chinese Actors in Africa: A Bureaucratic Politics Study of Chinese Foreign Policy Actors.
Please see below a synopis of this book:
Competition and Compromise among Chinese Actors in Africa explains why conflict exists among Chinese foreign-policy actors in Africa and argues against the concept that China has a grand strategy in relation to Africa. It does so by examining Sino-African relations by focusing on how China's Africa policy is constructed and implemented concluding that a large number of actors are active in its formulation and implementation. The book argues that China's Hegemonic Political Discourse (HPD), the goal of achieving a Harmonious Society and later the Chinese Dream through the Scientific Concept of Development, has dominated Chinese political discourse. It is this HPD that acts as the structural imperative that allows for collective action in the Chinese foreign-policy process in Africa rather than a Chinese grand strategy since the actors are unwilling to break the social norms of the collective process for fear of exclusion.This book will be of great interest to China watchers and those eager to understand how China's rise will impact the developing world.