News
News
International Olympiad in Informatics 2020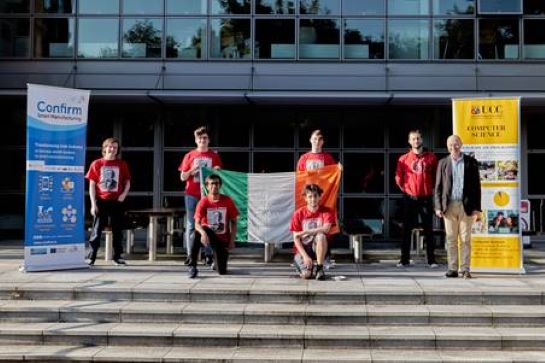 Irish competitors compete for the 32nd International Olympiad in Informatics from UCC
The 32nd International Olympiad in Informatics (IOI 2020) started on Sunday September 13th. It is the most prestigious computer science competition for secondary and high school students around the world, with 88 different countries presenting a team this year. The competition is one of five international science Olympiads held annually. The competition was supposed to take place in Singapore, but due to the COVID 19 pandemic, it has been moved online.

The Irish contestants are competing from UCC, supported by Dr Sabin Tabirca, computer science lecturer and coordinator, Dr Andrea Visentin (team leader) and Colm Hickey (deputy team leader).
The contestants include Harvey Brezina Conniffe, Oisin Davey , Adam Kelly and Suneet Mahajan.
The Irish national team has been selected through the All Ireland Programming Olympiad, organised by the School of Computer Science and Information Technology. Irish secondary school students from all over Ireland can compete for a position in international team. In preparation for the IOI, the school also delivered training for the four Irish contestants. Last year, the Irish team went to Baku (Azerbaijan) for the IOI 2019; one of our competitors managed to score an impressive Bronze medal! We hope we can collect more medals this year.
Competitors
Harvey Brezina Conniffe
Oisin Davey
Adam Kelly
Suneet Mahajan
More info at: https://ioi2020.sg/about-ioi/
https://en.wikipedia.org/wiki/International_Olympiad_in_Informatics
https://www.facebook.com/IOI2020SG