News
News
Congratulations to our staff who were awarded National Teaching Hero awards in 2021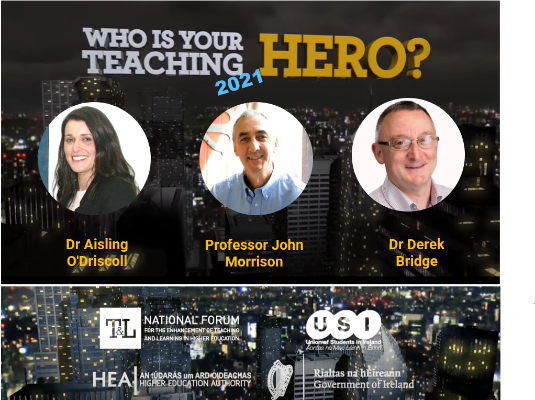 Congratulations to Dr Aisling O'Driscoll, Dr Derek Bridge and Professor John Morrison who received a National Forum/USI Teaching Hero Award 2021.
The Awards are organised by the National Forum in collaboration with the Union of Students in Ireland and other students' unions nationwide. They provide an opportunity for students across the country to recognise and celebrate outstanding teaching in our higher education institutions. Teaching Heroes are nominated by individual students, who submit a short personal piece (a maximum of 150 words) that explains why the person is their 'Teaching Hero'. Based on student nominations, all Teaching Heroes identified, with their agreement, receive national recognition.
All three have also been previously recognised for their teaching excellence.
In 2016, Aisling won a Teaching Hero Award and in 2015 was computing coordinator for an interdisciplinary MSc which won a GradIreland Postgraduate Course of the Year award. Aisling currently teaching programming,
Derek was awarded the student nominated SEFS Outstanding Lecturing Awards in 2018 Over the years, his teaching has covered many areas of Computer Science and Artificial Intelligence.
John has also been previously acknowledged for his teaching excellence. In 2014, John received the student nominated outstanding lecturer award and in 2006, the President's award for excellence in teaching.