QEU News
QEU News
EMINENT online training, delivered by UCC
The Quality Enhancement Unit was delighted to engage in recent Online Training as part of the EMINENT project. Since the beginning of the EMINENT Project in November, 2018, UCC has supported the ongoing enhancement of Quality Assurance within higher education institutions in Haiti. The training, which was postponed in March 2020 due to the COVID-19 global pandemic, took place online via a series of Masterclasses and tutorial meetings from 13th to 17th July. These were led by several institutions including AQ Austria, University of Alicante and University College Cork.
UCC delivered a Masterclass focused on Self-Evaluation, the development of learning outcomes and the application of those outcomes into study programmes. This was led by Elizabeth Noonan, Director of Quality Enhancement, Dr Martin Howard, Head of the French Department, Dr Declan Kennedy, Senior Lecturer in Science Education and Dr Silvia Brandi, Quality Enhancement Advisor.
During the training, UCC proposed exercises to the Haitian Universities to implement the concepts on Self-Evaluation and apply their learning outcomes to the study programmes. The Haitian partners were then offered the opportunity to discuss their advancements with the UCC Panel. It proved to be a successful experience we look forward to working alongside our Haitian partners as part of the EMINENT project in the future.
Please click the following link to view a lovely composite of our online activities with our Haitian colleagues. You may spot a few familiar faces:
Eminent & UCC, working together!
EMINENT Site Visit to UCC - May 2019
Having hosted a very successful site visit from a visiting delegation from Haiti on Thursday, 30th and Friday, 31st May, we are delighted to share some of the lovely images captured by Tomás Tyner (University Photographer) on our webpage.
The Haitian group, along with staff from the University of Alicante and the Agency for Quality Assurance and Accreditation, Austria, enjoyed their 2-day visit to UCC which formed part of the Erasmus+ capacity building EMINENT project. The delegation met with UCC staff members who generously gave of their time, knowledge, experience and best practices to the group so that they will be in a position to build an internal quality assurance system in their respective HEIs in Haiti.
Workshop on the adaptation of NQF in Jordanian H.E.

Following the development of a National Qualifications Framework in Jordan, six Jordanian Universities are conducting pilot projects to phase in the implementation of the NQF across a number of selected disciplines. Dr Kay Taaffe, QEU, attended a three-day study visit (2-4 July 2018), designed to support this pilot process, at the Ministry for Higher Education in Amman, Jordan. The primary purpose was to facilitate discussion on the adaptation of the selected study programmes to the recently established NQF and evaluate the results of the compatibility study conducted by Jordanian partners. The trip to UCC in September (see below), by the Jordanian partners, will be a natural follow-on to further develop this process.
A group of approximately 24 people from Universities across Jordan will visit UCC from 26-28 September 2018. This Study Visit will include talks on implementing the NFQ (policy and practice), on academic development and Governance and there will also be a number of workshops on Learning Outcomes made available to the visiting delegation.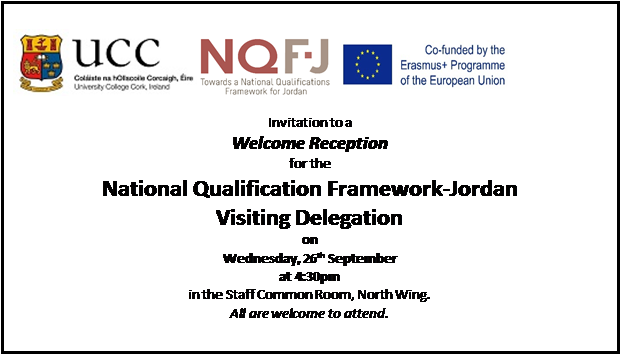 The National Qualification Framework-Jordan (NQF-J) delegation comprises 23 x representatives from various Higher Education Institutions and Agencies in Jordan including Yarmouk University, German Jordanian University, Princess Sumaya University for Technology, University of Jordan, Mutah University and Hashemite University as well as the Higher Education Accreditation Commission and the Ministry of Higher Education & Research)
The NQF-J group's visit will form part of the activity scheduled under the Erasmus+ project 'Towards a National Qualifications Framework for Jordan'. The purpose of the study visit is to gain an overview of the experiences and expertise in UCC. The group will be welcomed to U.C.C. by Dr. Marian McCarthy, Vice President for Teaching and Learning (Interim).
__________________________________________________________________________________________________________________________________________
_

HICA Study Visit to UCC - June 2017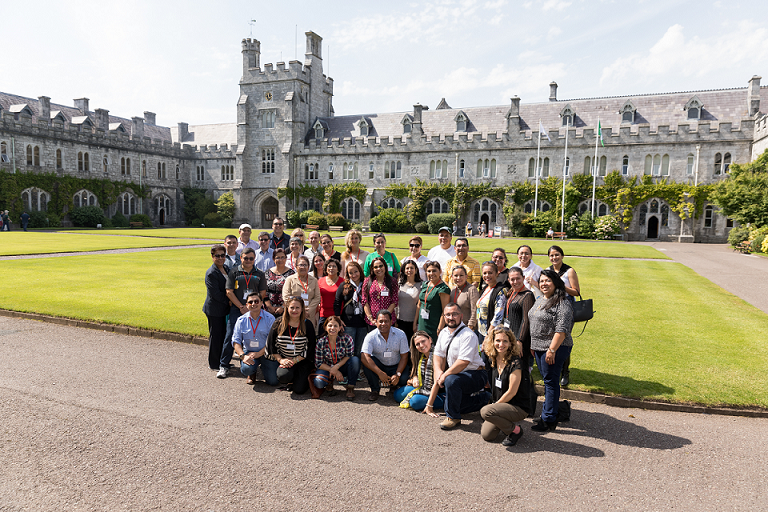 The Quality Enhancement Unit hosted the HICA Delegation from Central America on a very successful study visit to U.C.C. from the 21-23rd June, 2017. The HICA group (pictured above) comprised 40 x people from the following countries: Guatemala, El Salvador, Honduras, Nicaragua, Costa Rica and Panama. There were also participants from Spain and Germany included in the group. Prof Nuala Finnegan, Head, School of Languages, Literatures and Cultures, delivered the Opening Address in Spanish, which from the outset, made the Central American participants feel very welcome. During their time here, the HICA group met with staff members including Dr Marian McCarthy, Dr Catherine O'Mahony, Prof Paul McSweeney, Ms Eleanor Fouhy, Dr Declan Kennedy, Ms Mary Ward, Ms Anne Gannon, Mr Paul O'Donovan and Ms Elizabeth Noonan. A number of postgraduate students from Central America who are studying here in Cork also met with the group. Each student gave a short presentation on their experiences of, and insights into, studying in UCC.
__________________________________________________________________________________________________________________________________________
RecoNow Study Visit to UCC - November 2014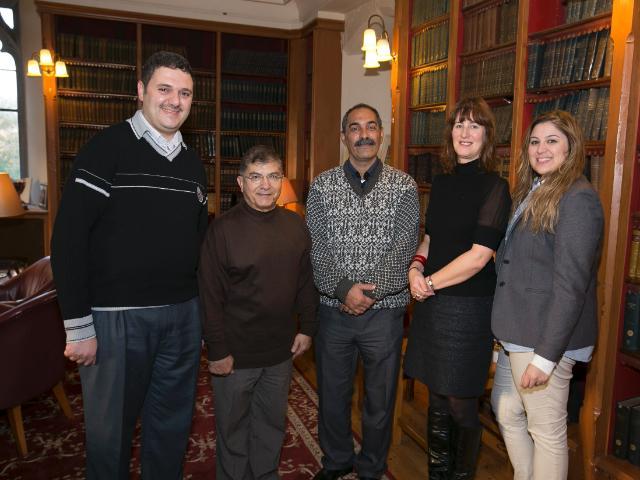 Pictured during their Study Visit to U.C.C. are members of the RecoNow Delegation with Fiona Crozier, Director, QPU. From left to right: Sami Sader, An-Najah National University, Palestine; Yousef Al Qahwaji, University of Petra; Mohamadnabil Dabdoub, Birzeit University, Palestine; Fiona Crozier, QPU; Hadeel Boshmaf, The University of Jordan.