QEU News
QEU News
Workshop on the adaptation of NQF in Jordanian H.E.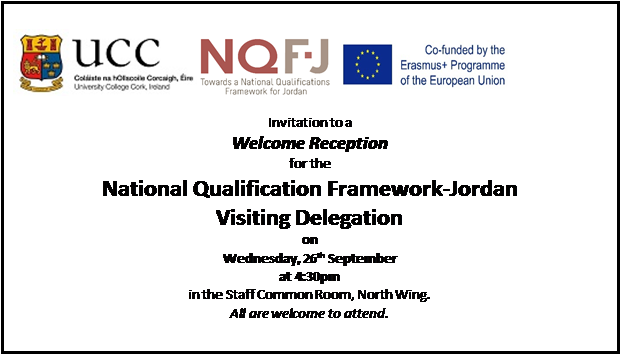 NQF-J

Following the development of a National Qualifications Framework in Jordan, six Jordanian Universities are conducting pilot projects to phase in the implementation of the NQF across a number of selected disciplines. Dr Kay Taaffe, QEU, attended a three-day study visit (2-4 July 2018), designed to support this pilot process, at the Ministry for Higher Education in Amman, Jordan. The primary purpose was to facilitate discussion on the adaptation of the selected study programmes to the recently established NQF and evaluate the results of the compatibility study conducted by Jordanian partners. The trip to UCC in September (see below), by the Jordanian partners, will be a natural follow-on to further develop this process.
A group of approximately 24 people from Universities across Jordan will visit UCC from 26-28 September 2018. This Study Visit will include talks on implementing the NFQ (policy and practice), on academic development and Governance and there will also be a number of workshops on Learning Outcomes made available to the visiting delegation.
The National Qualification Framework-Jordan (NQF-J) delegation comprises 23 x representatives from various Higher Education Institutions and Agencies in Jordan including Yarmouk University, German Jordanian University, Princess Sumaya University for Technology, University of Jordan, Mutah University and Hashemite University as well as the Higher Education Accreditation Commission and the Ministry of Higher Education & Research)
The NQF-J group's visit will form part of the activity scheduled under the Erasmus+ project 'Towards a National Qualifications Framework for Jordan'. The purpose of the study visit is to gain an overview of the experiences and expertise in UCC. The group will be welcomed to U.C.C. by Dr. Marian McCarthy, Vice President for Teaching and Learning (Interim).