QEU News
QEU News
Colloquium International EMINENT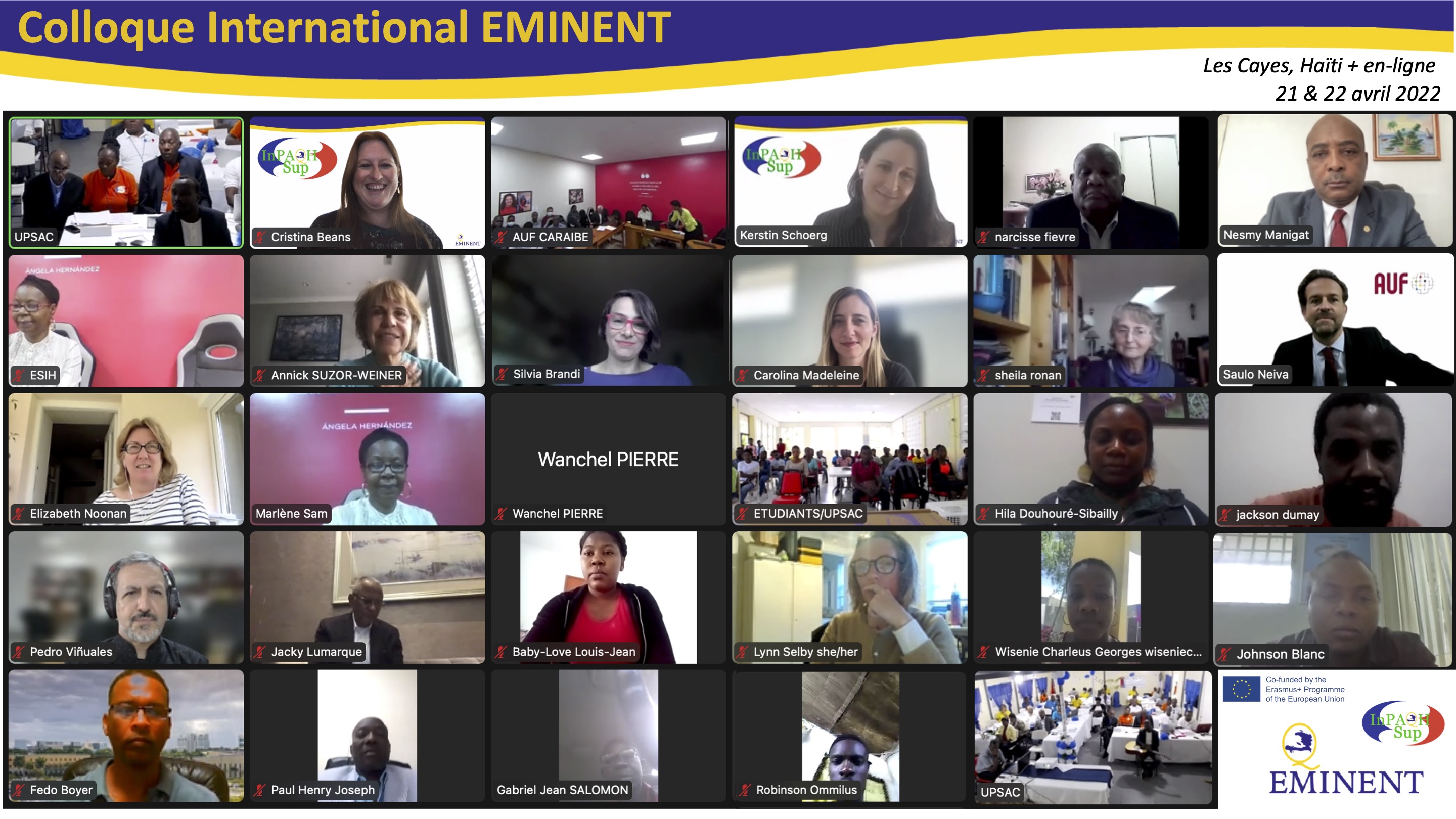 A successful conclusion to the EMINENT Project.
Congratulations to everyone who has been involved in the EMINENT project since its inception in 2018. The core objective of this project was to foster the enhancement and harmonisation of Haitian higher education Quality Assurance procedures. The project began with a kick-off meeting in the University of Alicante in February 2019. This was followed by two study visits in May/June 2019: one to the University of Vienna and the second to University College Cork. A series of online Masterclasses and tutorial meetings were also led by several institutions including AQ Austria, University of Alicante and University College Cork in 2021.
Notwithstanding the challenges posed by natural disasters, political and social unrest and the Covid-19 pandemic, the Colloquium which was held in April, 2022, was a testament to the hard work, perseverance and dedication by all Haitian partners. The Colloquium was held to showcase the developments in Quality Assurance practices within high education in Haiti, that have evolved over the course of this project. Thanks to the ongoing engagement and commitment of both the Haitian and European Partners, the project came to a successful conclusion on 14th May 2022.
The Quality Enhancement Unit would like to acknowledge the invaluable contributions of our colleagues, Ms Eleanor Fouhy, Dr Martin Howard and Dr Declan Kennedy, as well as our team members, Ms Elizabeth Noonan and Dr Silvia Brandi. A special acknowledgment goes to our colleague, Mr Luis Gomez de Membrillera, who served as EMINENT Project Coordinator for the University of Alicante until his successful appointment to UCC in early 2022.
We would also like to extend our sincere gratitude to all the members of the UCC community, who welcomed our EMINENT partners to UCC in May 2019 and generously contributed to the QEU's 2021 GoFundMe campaign in support of UNICEF's earthquake relief initiatives, the support was greatly appreciated.