News
News
Mr. Gerard Summers - INFOMAR update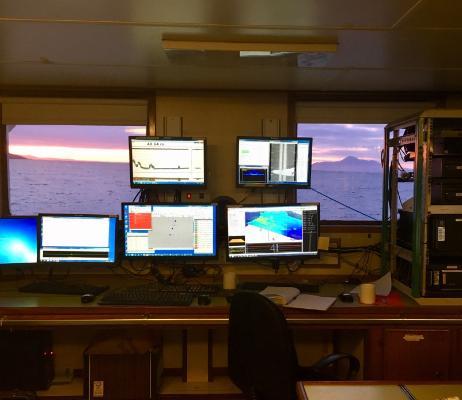 PhD Researcher, Gerard Summers, is currently lending a hand to the MI and INFOMAR (Integrated Mapping for the Sustainable Development of Ireland's Marine Resource) and is mapping the southern Irish sea territory using the cutting-edge sonar technology available aboard the RV Celtic Explorer.
INFOMAR is a twenty-year programme to map the physical, chemical and biological features of Ireland's seabed. INFOMAR is funded by the Department of Communications, Climate Action and Environment (DCCAE), and delivered by joint management partners Geological Survey Ireland and the Marine Institute. The programme has placed Ireland centre-stage as global leaders in marine stewardship, seabed mapping and development of marine resources. This will have multisectoral benefits with and aims to provide comprehensive and accessible datasets for Irish waters that underpin and add value to marine research. It is an absolute privilege to be part of this project.
As part of this process, Gerard is being trained on the use of MVPs (Moving Velocity Profiler), this is an instrument that allows researchers to measure the water column and determine how it will affect the speed of sound through water without stopping the vessel. This will add valuable time to future seabed mapping projects executed by the UCC Marine Geology group.
Gerard is also getting firsthand training on survey design from Agust Magnusson, a veteran of the INFOMAR mapping project, works for the GSI aboard the RV Kearys, and volunteered to help staff the scientific team for this survey. Agust has 20+ years of experience mapping seabed so Gerard will be sure to come back with some cracking tips for the rest of the group. As it stands, they have mapped 847 km2 of seabed, the equivalent of Singapore combined with Lichtenstein!
For more information about what INFOMAR are all about, check out: https://www.infomar.ie/about