News
News
Larissa's paper is out! Read about it here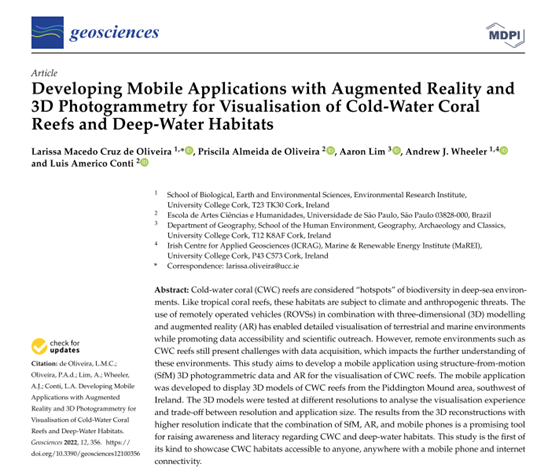 We did it. Our first mobile app to visualise 3D models of cold-water coral habitats is out!
Over the past few years, UCC Marine Geosciences Research group has been using state-of-art methods such as Structure-from-Motion (SfM) photogrammetry to map the seafloor. SfM can provide high-resolution maps of the seafloor from video data collected with Remotely-Operated Vehicles (ROVs) whilst providing a fast and non-destructive mapping technique to map our valuable seafloor
3D models are a great way to map the seabed and corals mounds. Because we have information about the objects like corals in three different axes (X,Y, Z), we can derive more information regarding volume, distribution and adjacent terrain attributes. This data can provide an accurate and contextualised analyses of CWC habitats and deep-sea environments.
Because 3D models can carry so much information, they can be often hard to process and visualise. So many people may not have access to them if they don't have a visualisation software. Aiming to make 3D models more accessible to everyone, one of the projects that Larissa was developing in her PhD was to create a way to make the 3D visualisation of 3D models accessible to everyone with a (android) phone!
Larissa joined forces with Priscila de Oliveira and Luis Conti from University of Sao Paulo to create an application using augmented reality (AR) and photogrammetry. See the previous blog post for an extra read.
The results and the methodology used for the APP were published in Geosciences. Check the paper out to see how we developed it here: https://www.mdpi.com/2076-3263/12/10/356. The app can be downloaded here: https://drive.google.com/drive/folders/1Nf36dtLtCCQKts40Kqha8D9hSCWluFzU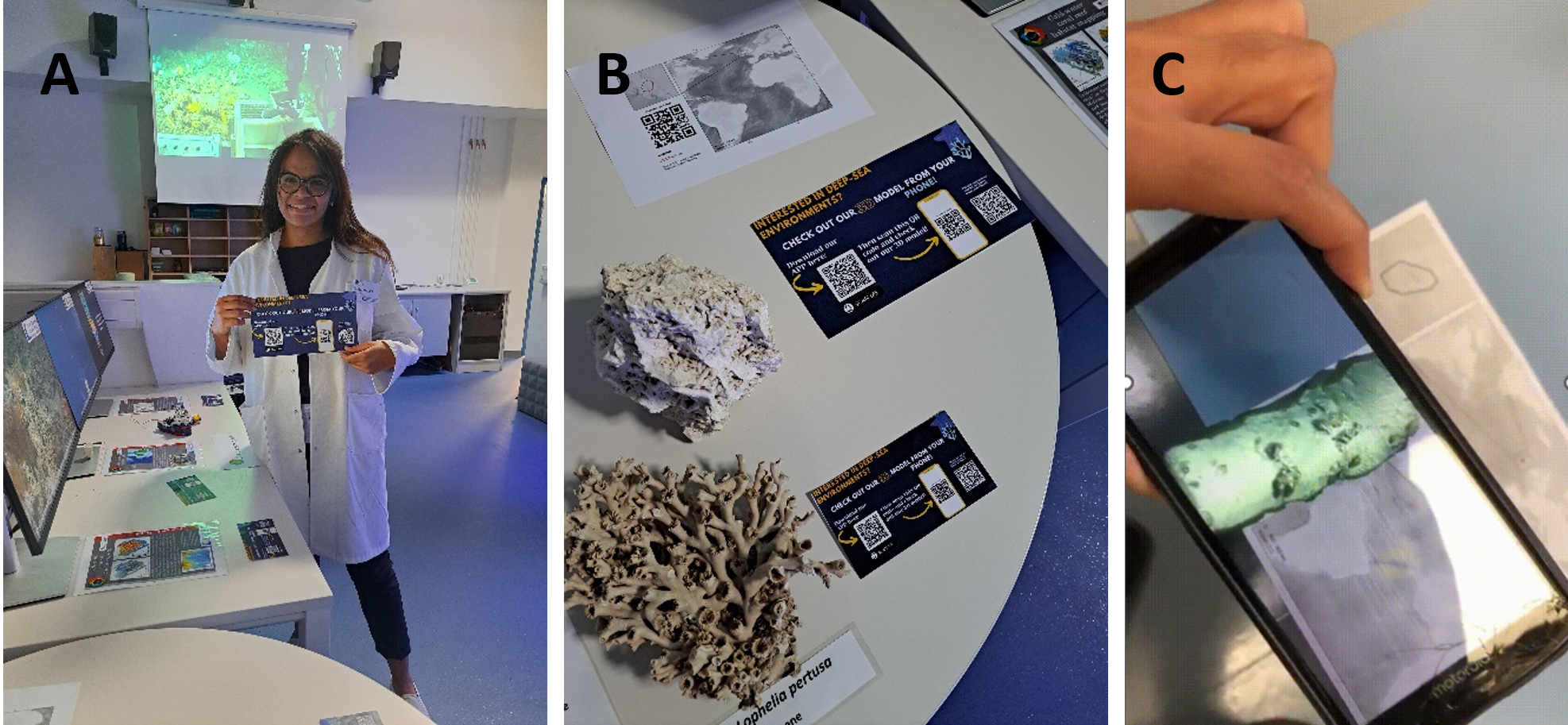 The app made its debut after the paper release during the Culture Night 2022 event at BEES, UCC (A). By scanning the QR codes in the picture with an Android phone (B), attendees could visualise a 3D model of the seafloor created by Larissa (C)