News
News
LinkedIn Learning for Postgraduate Students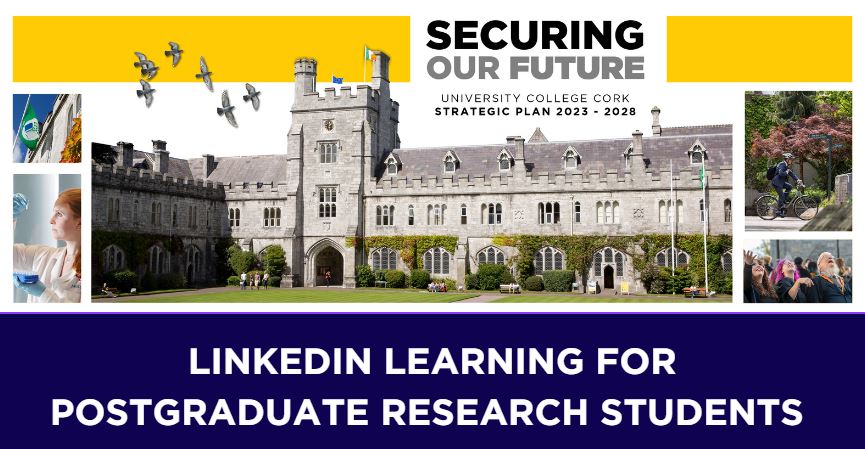 This week the Graduate Attributes Programme rolled out 1500 LinkedIn Learning licenses to Postgraduate Research and Masters students.
LinkedIn Learning is an online educational platform that helps students to discover and develop business, technology-related, and creative skills through expert-led course videos. With more than 16,000 courses and personalized recommendations, they can discover, complete, and track courses related to their field of study and interests.
LinkedIn Learning Pathways have been created to support PhD students in developing core skills in line with the IUA PhD Graduate Skills Matrix and UCC Research Administration Project.
Additonal pathways provide learning content on key skills students highlighted they needed to further develop, such as networking, data analysis, collaboration and teamwork.
Strategic Alignment: Research and Innovation
As a leading research university, we are acutely aware of the importance of creativity, ambition and discovery to support innovation. Core to our purpose as a university is the delivery of a relevant, dynamic and inclusive learning experience for all students. This project aims to support PhD students in development core transferable skills and enhance their learning experience:
1.3. Increase PhD enrolment numbers, enhance the research student experience, and embed research and innovation into our curriculum.
iv. Enhance the experience of PhD students…tracked and informed by the Research Administration Project… embedded and aligned with our Graduate Attributes Programme.
2.4. iii. Ensure support and recognition for informal learning…and skills development to enable lifelong, life-wide, and life-deep opportunities for learning and engagement to provide a high-quality university experience as students transition in, through and out of UCC.
Project Impact, Strategic Plan 2023-2028
The research student experience is enhanced in line with Action 1.3. Feedback on how the student experience was enhanced will be collected via a feedback form and an open student forum.

In line with Goal 2 of the academic strategy, students will have access to a digitally enhanced learning environment.

In line with Action 2.4, students will receive support and recognition for informal learning and skills development resulting in a high-quality university experience was they transition through.
The Graduate Studies Office and UCC Career Services have supported the roll out of the project and througout the summer, Career Services professionals will deliver in-person sessions to guide and supplement the onlinelearning. Topics will include:
Enhancing your employability.

Utilising LinkedIn Learning to enhance employability

Creating and maintaining a LinkedIn Profile.

Effectively articulating your personal and professional development.

Group coaching sessions.

Developing graduate attributes and values through professional development.


The Graduate Attributes Programme will embed Your Compass in the learning journey and at the end of the project, participants will be invited to a Student Forum to discuss their learning, the next steps to utilise their skills, and feedback on project success will be collected.
For more on this story contact:
Adel Coleman