News
News
Graduate Attributes Programme Team Staff Recognition Award 2022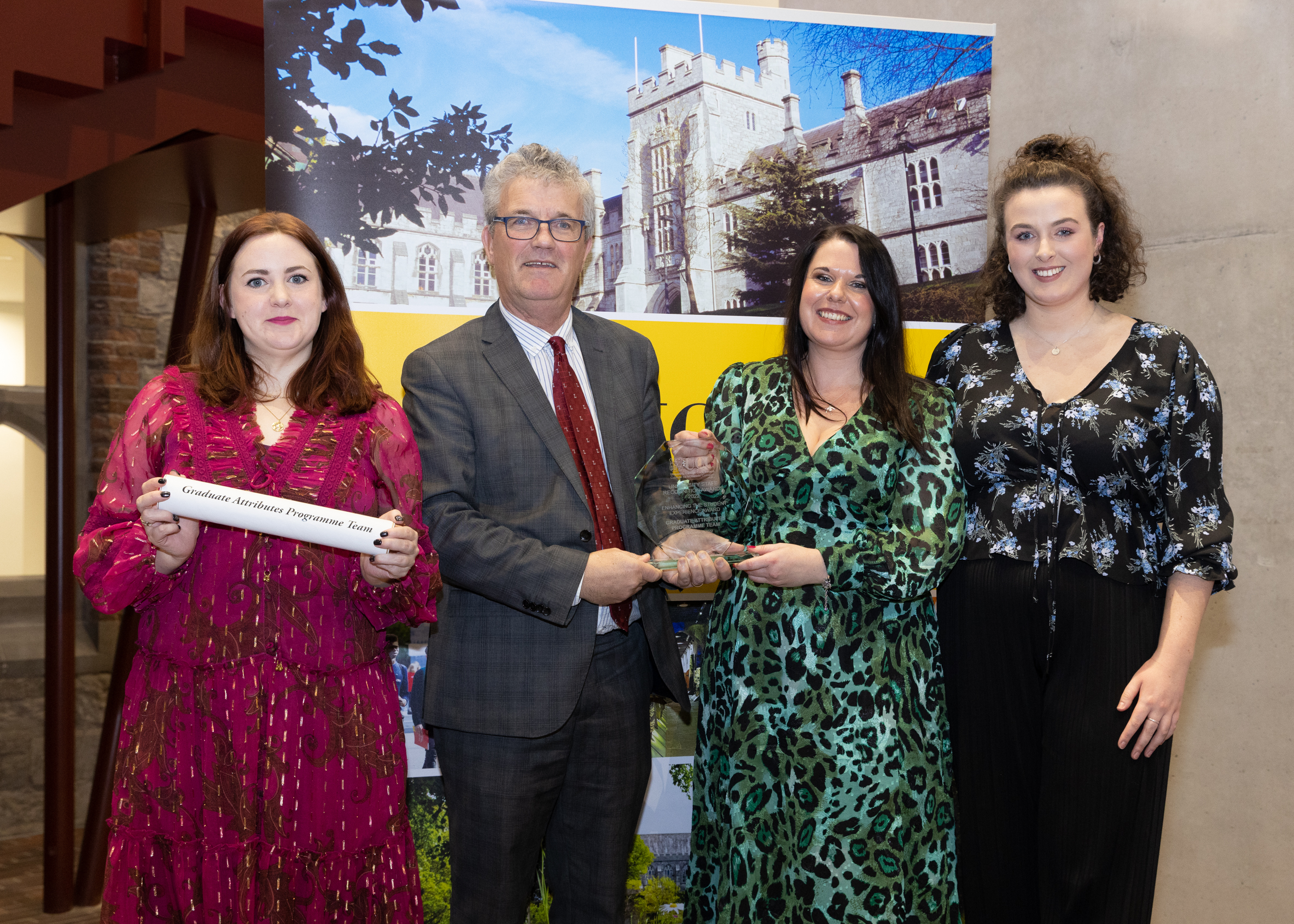 The UCC Graduate Attributes Programme Team were selected for the Enhancing the Student Experience Award under the University Staff Recognition Awards Programme 2022. The Awards Programme was established in 2010 to recognise outstanding achievements and contributions of staff towards realising the vision and goals of UCC. The Selection Committee determined that the Graduate Attributes Programme Team should be honoured with this award on the basis of an exemplary contribution to their roles and the wider University.
The UCC Graduate Attributes Programme (GAP) is the first of its kind in Ireland and unique to UCC.
GAP is a highly transformative, student-centric suite of initiatives which helps students to successfully navigate their transition in, through and out of UCC, enabling them to begin, belong and become the person they want to be. GAP prepares students to live, learn and lead in a shared, co-created future and enables them to take an active role in advancing the just and sustainable evolution of our communities, our society and our local and global economies.
The current GAP team comprises of Adel Coleman, GAP Manager, Maggie O'Sullivan, SEA, and Clodagh O'Sullivan, EA.
Adel Coleman, UCC Graduate, recently moved to GAP from UCC Career Services and has extensive experience working with students on their employability and overall personal and professional wellbeing. Maggie O'Sullivan, UCC/CIT graduate, is a qualified graphic designer who puts her creative skills to fantastic use in GAP developing all manner of engaging materials for students. Clodagh O'Sullivan, UCC Graduate, moved to GAP from the world of academic research, in order to put her understanding and skills to use helping students.
GAP strives to support students in developing the graduate attributes and values necessary for our UCC graduates to be recognised as well-rounded, curious, self-aware individuals who continually learn new skills, are open to new ideas, and make things happen. GAP supports students during three key university transitions: in, through, and out. GAP facilitates students' life long, life wide, and life deep learning.
Sample of key supports:
Transition In: Nurturing Bright Futures (NBF). NBF has been designed to equip prospective students with the information they need as they prepare to transition into third-level education. This course empowers students to make informed decisions and the best choices for their future career.
'I would 100% recommend it to anyone who is unsure about college, as it addresses all of my concerns' – Adam Hennessy, Secondary School Student
Transition Through: Your UCC Graduate Attributes and Values Compass (Your Compass) Your Compass is the flagship initiative of GAP. This self-assessment tool has been created to support and facilitate students in the development of their attributes and values. The learning experiences available on the platforms have been curated by over 20 professional services and academic staff, with the aim that all students are facilitated through curricular, co-curricular and extra-curricular learning to develop their graduate attributes and values, in a manner reflective of their personal goals and programme of study.Students can earn a UCC accredited digital badge upon completion of Your Compass.
'Your Compass allowed me to develop skills in blocks of time. This then helped me to apply them in my personal life and professional career' – Edel Lonergan, BA Digital Humanities.
Transition Out: UCC EmployAgility Awards. Together with UCC Careers Services, GAP has developed EmployAgility, an award programme which provides students with formal recognition of their development of transferrable skills, graduate attributes and core values. This programme invites students to log 20 hours in an award pathway of their choice and reflect on the development of graduate attributes and values during their journey in a reflective report.
'I can better understand myself, reflect on my abilities and values, think critically in my study and practice, and develop and improve myself more proactively.' – Tingting Bo, MSc. Marketing and Management.
Other supports include: the Graduate Attributes Programme Podcast which is all about the student voice, students are interviewed on their Begin, Belong, and Become journey in UCC, and how they are developing their core graduate attributes and values. Success, It's in Your Nature, supports students in connecting with nature to nurture their wellbeing and development. Looking forward, GAP wishes to continue to positively impact the student experience and strive to engage in a more hands on manner, e.g., GAP are currently developing an in-person Postgraduate Researchers workshop series, to support PGRs in their holistic wellbeing.
For more on this story contact:
Adel Coleman
Graduate Attributes Programme Manager