News 2014
News 2014
BEES staff members celebrate long service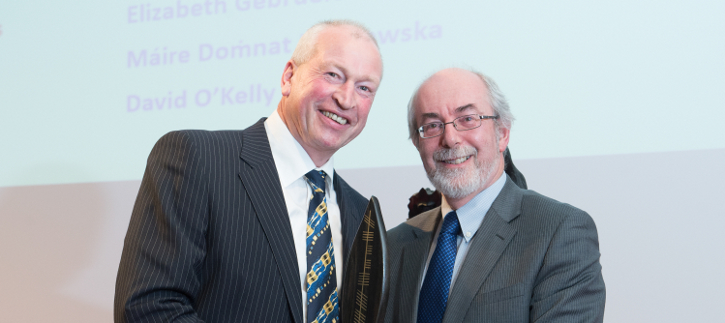 Congratulations to the School of BEES staff members who were presented with long-service awards recently.
Three School of BEES staff members were this month recipients of UCC Long Service Awards at an event held on campus.
The awards are held to recognise long and distinguished service by members of the UCC community.
Mr Frank Morrissey, Senior Technical Officer was presented with an award for 35 years of service. Dr Paddy Sleeman and Prof. John O'Halloran were both recognised for 25 years service.
Head of School of BEES Dr Sarah Culloty congratulated the recipients on their awards: "We're delighted to celebrate the work that Frank, Paddy and John have done over a long period to advance the work of University College Cork and the School of BEES in particular. All have contributed immensely to the teaching and research aims of the School over the years as well as to the sense of collegiality amongst the school community. We look forward to their continued contributions for many years to come".
Dr Paddy Sleeman of BEES receives his 25-year long service award from Prof. Paul Giller. @ucc pic.twitter.com/8ZfiI6DBDy

— School of BEES, UCC (@uccBEES) November 24, 2014
Prof. John O'Halloran of BEES receives his 25-year long service award from Prof. Paul Giller. @ucc @johbees pic.twitter.com/KCwBjCilmA

— School of BEES, UCC (@uccBEES) November 24, 2014
Frank Morrissey of BEES receives his 35-year long service award from Prof. Paul Giller. @ucc pic.twitter.com/baVzcFgk0I

— School of BEES, UCC (@uccBEES) November 24, 2014