J O'Donnell webpage
J O'Donnell webpage
'Patients & Peace'
An exhibition of fine artworks by Mr Joe O'Donnell, M. Ch. FRCSI in Memoriam 1943 - 2009
Joe O Donnell was appointed as vascular surgeon at Cork University Hospital and Clinical lecturer in the University Department of Surgery in 1979 following training at the University of Massachusetts and having held the position of Fellow in Vascular Surgery at the New Jersey Medical School in Newark and Consultant Vascular Surgeon at the V. A. hospital in Orange, New Jersey. He retired prematurely in 2002 at the age of 59 following 23 years of service to thousands of patients, leaving a huge gap in the surgical resources of Cork and Munster. At the time of his retirement, he was the only vascular surgeon in the University hospital and was, in theory and in practice, on call for the entire year.
It was a burden with which many of his colleagues identified in the pre celtic tiger era and it is noteworthy to mention that now in 2010, a mere 8 years later, there are 4 vascular surgeons in Cork.
One of these surgeons, Mr. Gerald McGreal delivered the inaugural Joe O'Donnell Memorial lecture at 4.30pm on September 16th in G10 theatre at the UCC Brookfield Health Sciences Complex.

'Explosion'
Acrylic paint on canvas
Featured in Irish Arts Review Sept 2010 in advert for the exhibition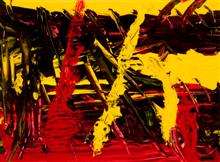 Mr. Gerald McGreal is a student of Mr. O Donnell and is quick to praise Joe's persistence, care, meticulous attention to detail and the manner by which he explained every step of management of the patient problem using analogies from his vast experience.
Following the Memorial lecture, colleague and friend Dr. Will Fennell, opened 'Patients and Peace' an exhibition of Mr. O Donnell's paintings to an enormous gathering of friends and families.

Joe was a student of art for a number of years before he retired. He was tutored in drawing and painting by Susan and Josef Keys from the year 2000. More recently, he studied under the French artist Dorothee Roberts at Carrigaline Art Studio. He worked mainly in acrylics. Parallel to his medical attitude, his approach to painting revealed persistence, care and meticulous attention to detail. As he progressed over the years, perhaps in part due to the fact that he had retired, his style became freer and more relaxed. He concentrated mainly on the rendering of light and shade over the Irish landscape, creating tonal and light variations to establish sensation and atmosphere, engaging the viewer in a personal way.
'Harvest Field'
Acrylic paint on canvas
His artworks depict his evolution from concentrated detail balancing light and dark to more freer abstract expression.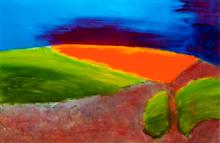 Together with Prof Cillian Twomey, he spearheaded the development of clinical audit and quality assurance activity in Cork teaching hospitals long before its national recognition as a core component of postgraduate educational curricula.

The now renamed Quality Unit in Cork University Hospital will serve as a lasting testament to his major contributions in the CUH and UCC.
For many years Joe served as an examiner and council member for the Royal College of Surgeons in Ireland (RCSI) and for fourteen years as a member of the Postgraduate Surgical Training Committee.
He was the Irish representative for vascular surgery in the Union Europeans des Médecins Spécialistes (UEMS) for nine years.
He was a contributing member to many distinguished national and international bodies in general and vascular surgery.
Prior to his premature death on March 2nd 2009, the Jennings Gallery had invited Mr. O Donnell to exhibit his work at his Alma Mater, a request that could not be met due to ill health. UCC and the Jennings Gallery will now honor this work posthumously and pay tribute to him, not only for his artistic talent but also for his 23 year service as a vascular surgeon and for the great personal qualities for which he is remembered in high esteem by his colleagues, family and friends.
'Cork County'
Acrylic paint on canvas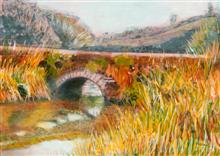 Throughout the course of his medical career in Ireland he sought to improve quality of education for students and quality of care for his many thousands of patients who remember him for his kindness and caring.
He is remembered by his colleagues as being without peer, always supportive and never seeking accolades.
'Rosewood'
Acrylic paint on canvas