12 Sept 2014 - Iris of the East
12 Sept 2014 - Iris of the East
Luke Feighery - Iris of the East, 12th September 2014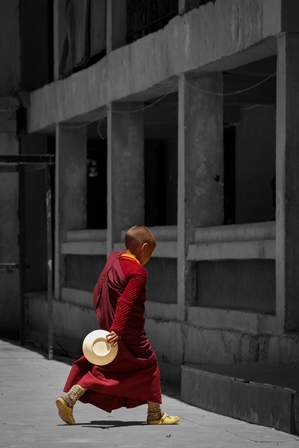 Iris of the East is medical student Luke Feighery's first exhibition of his photography. Luke studied Physiology in Trinity College Dublin and is now a Third-Year Graduate Entry student in Medicine.

The exhibition features a selection of portraits taken over the past three years in Asia; Indonesia, Malaysia, Thailand, Cambodia, Vietnam, Bangladesh, Nepal, Sri Lanka and most recently, India.
Luke is intrigued by light: how it falls, how it reflects and how it affects each exposure. Taken with a 100mm macro lens, Luke's more recent portraits appear to capture every hair in a moustache, every crease in a furrowed brow and, in the sharpest of images, the silhouetted reflection of the photographer in the iris of the eye.
There is a personal story behind each of these photographs - the vigour and pain of Delhi's homeless people, the tranquility of a young Buddhist monk or, as William Osler describes:
"The poetry of the commonplace, of the plain, toil worn woman, with their loves and their joys, their sorrows and their griefs."
The Exhibition opens on Friday 12th September and runs until 16th October.