News
News
Reading from John Montague International Poetry Fellow, Brian Turner, and UCC Writer-in-Residence, Thomas Morris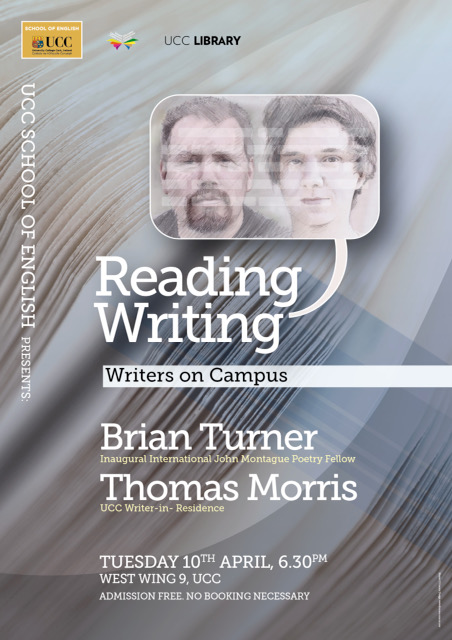 Tuesday, April 10, 6.30pm, West Wing 9
The fifth event in UCC's School of English Reading Series features our two resident writers on campus – the inaugural John Montague International Poetry Fellow
, Brian Turner
, and UCC Writer-in-Residence, fiction writer
Thomas Morris.
Brian Turner
is an American poet and essayist. He is the author of two poetry collections –
Here Bullet
– based on his experiences as a serving soldier during the Iraq war, and
Phantom Noise
, which was short-listed for the T.S. Eliot Award. He published a memoir in 2016 –
My Life as a Foreign Country.
Thomas Morris
is a Welsh-born short fiction writer – his debut collection
We Don't Know What We're Doing
won the
2016 Wales Book of the Year, The Rhys Davies Trust Fiction Award, and The Somerset Maugham Prize. He is a contributing editor to
The Stinging Fly
magazine.
The reading takes place on
Tuesday, April 10, 6.30pm
,
West Wing 9.
Admission is free and all are welcome.