News
News
Dr Alan Gibbs to present IAAS W. A. Emmerson Annual Lecture 2021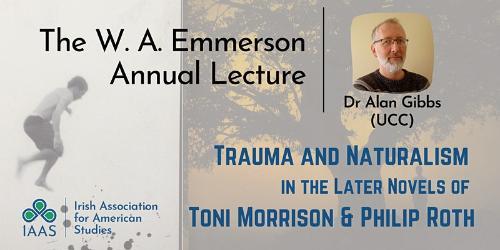 Dr Alan Gibbs will deliver this year's IAAS W. A. Emmerson annual lecture, entitled 'Trauma and Naturalism in the Later Novels of Toni Morrison and Philip Roth', on Wednesday, June 2.
This lecture marks the passing and celebrates the work of two of America's most important novelists of the last fifty years, Toni Morrison (1931-2019) and Philip Roth (1933-2018).
The lecture focuses in particular on Morrison's penultimate novel, Home (2012), and Roth's final work, Nemesis (2010). Home, which narrates the story of a Korean War veteran returning to his childhood home in order to rescue his sister, continues Morrison's sustained effort to explore narrative's possibilities in terms of representing the lasting effects of trauma, traceable at least as far back as Beloved (1987). Home is also interpretable as a naturalist novel, an unusually intersectional one, since Morrison is as attuned as ever in the novel to issues of race and gender.
Roth's Nemesis also represents an engagement with the pessimistic determinism of American naturalism detectable elsewhere in his late fiction. Like The Plot against America, Nemesis is in part an experimental alternative history, positing an outbreak of polio in 1940s Newark, and telling the traumatic story of the decline of its protagonist, Bucky Cantor. This lecture will compare and contrast the engagement with naturalism and the representation of trauma in these late novels by two esteemed American authors.
This lecture will take place online. Tickets are free. Registered attendees will be emailed the link to the lecture in the days before the event.
Book here:https://www.eventbrite.com/e/the-iaas-w-a-emmerson-annual-lecture-2021-dr-alan-gibbs-tickets-154036971729?fbclid=IwAR3SPAIuss4Oa80P2K7t29LRxIC9VGGLNiY8zUykH0-ilkvijJjOo_pSxeI