Landscapes, Environment & Heritage in Irish Studies
Landscapes, Environment & Heritage in Irish Studies

Landscapes, Environment & Heritage in Irish Studies
‌One-Day Workshop on 23 September 2016 9am-6pm, O'Rahilly Building, Room G27
Organised by Dr Anna Pilz and funded by the Irish Research Council
The workshop is free and open to all. Please email anna.pilz@ucc.ie to register.
Overview:
For those studying and researching Irish landscapes, there is a plethora of data and information available ranging from historic maps to GPS data, literary geographies, architectural and archaeological sources, oral histories and visual representations. What are the common codes and methodologies in this inherently inter-disciplinary research field?

About the Workshop
This Workshop seeks to contribute to this discussion both from a standpoint within and outside of the HE environment by asking:
What types of sources can we draw on to understand Irish landscapes, past and present?
Which methodologies do we employ within the different disciplines in order to understand and interpret Irish landscapes, be they rural, urban, coastal, forests, bogs, fields, rivers, built or non-built environments, inhabited or un-inhabited?
How can digital methodologies such as Geographical Information Systems assist in interpreting Irish landscapes?
What methods can be employed to identify, compare, and determine change over time?
How can we develop a critical, aesthetic and political discourse that works in collaboration with governmental incentives?
How can we further a dialogue between the academy, the public, and governmental institutions?
How might we best overcome challenges of inter-disciplinary research projects and what type of infrastructure within the academy and beyond would be useful?

The National Landscape Strategy for Ireland 2015-2025 states that 'The Irish landscape is an integral component of our surroundings and well-being, a visual expression of the diversity of our shared cultural and natural heritage, and intrinsic to our identity as an island nation.' One of the NLS's key aims is to 'establish and embed a public process of gathering, sharing and interpreting scientific, technical and cultural information in order to carry out evidence-based identification and description of the character, resources and processes of the landscape'.
In this context, we will reflect on how we research within the interdisciplinary field of Irish landscape studies and their import for environmental questions and cultural heritage.
Participants Include
Dr Hilary Bishop (Liverpool John Moores University)
Dr Richard Butler (University of Leicester)
Professor Claire Connolly (University College Cork)
Dr Nessa Cronin (NUI Galway)
William Cumming (Dep. of Arts, Heritage, Regional, Rural and Gaeltacht Affairs)
Dr Niall Cunningham (Durham University)
Professor Patrick Duffy (NUI Maynooth)
Dr Derek Gladwin (University of British Columbia)
Breda Moriarty (University College Cork)
Rachel Murphy (University College Cork)
Dr Finola O'Kane (University College Dublin)
Orla-Peach Power (University College Cork)
Angie Shanahan(Artist and Writer)
Professor Fiona Stafford (University of Oxford)
Dr Andrew Tierney (Buildings of Ireland)
Dr Michael Waldron (University College Cork)
Programme Details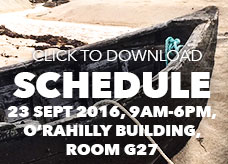 ‌Friday, 23 September 2016, 9am-6pm
Room G.27, O'Rahilly Building
University College Cork
Schedule (1.6mB)
To register, please email anna.pilz@ucc.ie.