News
News
"Soundseekers" participants receive UCC digital badges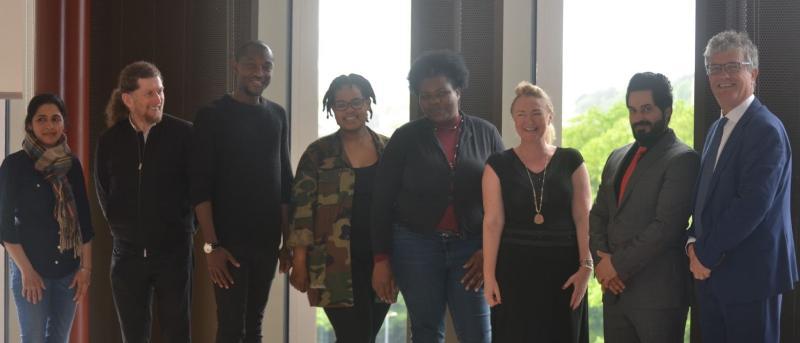 As part of the Soundseekers Audio Festival, participants with migrant backgrounds, many with refugee and asylum status, were invited to participate in a hybrid training model which consisted of online workshops and face-to-face workshops on topics such as community radio broadcasting, digital storytelling, production skills and communication skills.
In recognition of completion of the course, learners were awarded the digital badge in Creativity, Collaboration, Critical Thinking and Communication from University College Cork. Within UCC, a digital badge is a validated micro-credential awarded to earners in an online format. It is a means for the university to recognise non-accredited learning that supports the values and attributes the university seeks to foster.
Last week, a total of 17 adult learners received their digital badge certificates from the President of UCC, Prof. John O' Halloran. Dr Órla Murphy, Head of the Dept of Digital Humanities, was also present, alongside co-facilitator of the Soundseekers Audio Festival and current UCC student, Eanna Dowling.
The Soundseekers Audio Festival, in partnership with the Broadcasting Authority of Ireland (BAI), 98.3FM Campus Radio and the EDI Unit of UCC, proudly broadcasted a series of 20 documentaries and stories as part of UCC's Refugee Week in February 2022.
Listen to the series at the following link:
www.thesoundseekers.com/listen
The month-long festival had 17 other community radio broadcasting partners from across Ireland. This project is part of Kathy O'Hares PhD in Digital Arts and Humanities. Her research, which is supported by the Irish Research Council, focuses on critical digital pedagogy in virtual and online spaces.