Dr Tatiana Vagramenko
Dr Tatiana Vagramenko
School of Society, Politics and Ethics
Bio: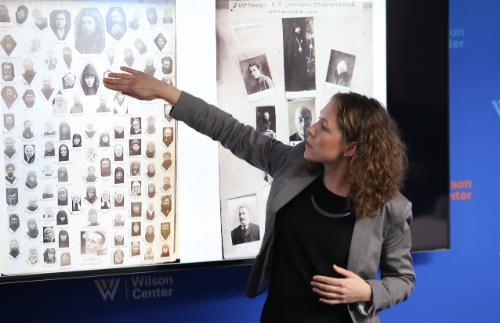 Tatiana Vagramenko is a social anthropologist and a religious studies scholar. She has held postdoctoral appointments at University of Barcelona in Spain, Imre Kertesz Kolleg, Friedrich Schiller University in Germany, at the Woodrow Wilson International Center for Scholars in Washington DC where she served as a Fellow at the Kennan Institute for Advanced Russian Studies, and also at University College Cork (IRC Postdoctoral Fellowship 2017-2019). She received her PhD in Anthropology from Maynooth University in 2014.
Based on a lengthy field experience and archival work, Tatiana's work focuses on the anthropology of religion in post-Soviet Russia and Ukraine, the complex history of the entanglement of religion with the Soviet secret police and its legacy in the post-communist context. Her latest publications: "KGB 'Evangelism': Agents and Jehovah's Witnesses in Soviet Ukraine." Kritika: Explorations in Russian and Eurasian History, Vol. 22/4 (2021); co-editor, with James Kapaló, of Hidden Galleries: Material Religion in the Secret Police Archives in Central and Eastern Europe (Lit Verlag, 2020). As part of her collaboration with the ERC Hidden Galleries project, she has been a co-organizer of 3 public exhibitions (in Romania, Hungary and Ireland) and a co-curator of a VR exhibition "The Underground" (http://hiddengalleries.eu/underground/) on the religious underground in Central and Eastern Europe through the lens of the secret police archives
Project outline:
Europe rests on the legacy of totalitarian regimes. Ukraine's European integration has highlighted the significance of the historical experience of Soviet-era repression and violence for processes of democratization and pluralism in society today. The turmoil of the last decade, including the Euromaidan revolution and the Russian aggression, have led Ukraine to a profound reckoning with its recent traumatic past, which has included the opening of secret archives. "History Declassified: The KGB and the Religious Underground in Soviet Ukraine" (HIDE) offers the first concentrated study of this process of transitional justice based on an innovative, in-depth reconsideration of recently declassified Soviet-era political police archives in Ukraine focusing on the Soviet repression of religious minorities.
The approach is explicitly interdisciplinary, combining methodologies drawn from anthropology of religion, intelligence history, oral history, and digital humanities. Recognizing the opening of previously classified archives as a critical element of transitional justice, HIDE focuses on sensitive issues in post-Cold war Europe: state control, the role of secret police surveillance and collaboration in shaping cultures of dissent, marginalization of minority communities and creative responses to power and domination of non-conformist groups. These issues are addressed through the re-contextualization of one of the most controversial historical sources in 20th century Europe – the secret archives of the political police.