PX3001 - Professional Work Experience
PX3001 - Professional Work Experience

PX3001 is an accredited professional work experience module that allows CACSSS students to explore and develop their career interests. This optional module can be taken in any year of your undergraduate degree. Preparatory training is provided, including advice and guidance on CV writing and interview skills workshops.
Students that successfully complete PX3001 will have an extra 5 credits awarded to them as a diploma supplement outside of your degree.
Participating in and completing PX3001 will mean that you will be better prepared for the transition to the workplace when you graduate your degree.
Why should you do PX3001?
Employers are now seeking graduates with high levels of literacy and digital competence, who are adaptable to different workplace environments. As a CACSSS graduate you will be well placed to meet many key attributes required by employers, such as: 
Resilience
Critical and creative thinking 
Problem solving  
Analytical and data management skills 
Communications skills 
Teamwork and leadership 
Literacy, language skills and digital competence. 
By participating in PX3001 you will be supported in identifying these skills and developing the language to express them on a CV and in an interview.
PX3001 will give you the chance to explore areas of professional interest and to gain invaluable, lifelong employability skills.
5 Steps to your Professional Work Experience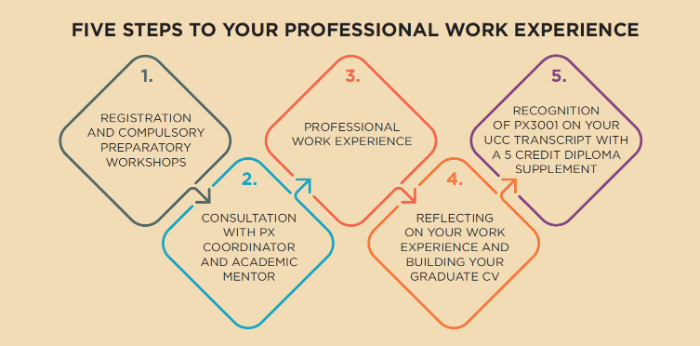 Dates for Your Diary
Registration is now open and will close on Friday November 11th
Careers Workshops:
Registered students will be emailed directly with details of the Careers Workshops.
Registration
For additional questions and queries, please contact Amy McMullan, Work Placement Manager, CACSSS directly: amy.mcmullan@ucc.ie
Download the Brochure
You can get more information on the PX3001 undergraduate professional work experience module by download our brochure at Download the Brochure