Volcanic Agglomerate
Volcanic Agglomerate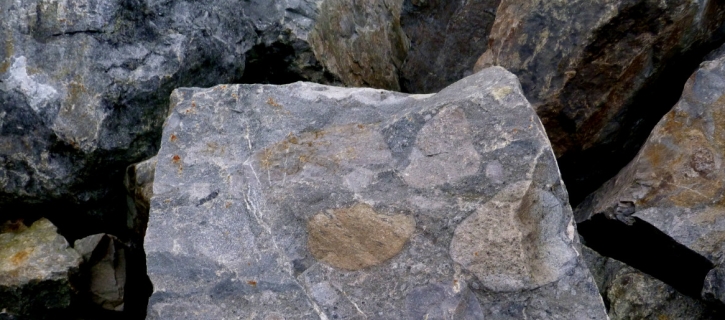 Arklow Head, County Wicklow
Violent eruptions, around 475 million years ago, ejected large rock fragments of pumice and rhyolite from the margins of an explosive volcano. These were mixed in with volcanic ash to form this rock type.
During the Ordovician period this part of Ireland was situated on a volcanic island-arc, created by converging plate boundaries, similar to Japan today. The volcanism associated with these terranes tends to be explosive, as can be seen in this example and the volcanic breccia (Rock No. 8), also situated in this garden. Evidence of this volcanism can be seen today extending from County Waterford all the way to the English Lake District.
The rocks from the Roadstone Wood Parnell Quarry at Arklow Head, County Wicklow are extracted for aggregate and have also been exported extensively as rock armour to protect coastlines from erosion.