News 2017
News 2017
Pioneering plant scientists for talk at UCC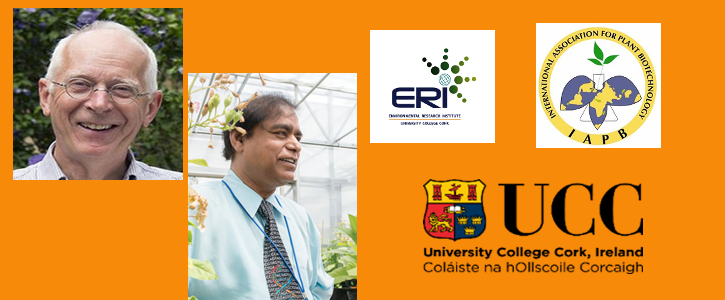 Dr Barbara Doyle Prestwich and Dr Eoin Lettice with the International Association for Plant Biotechnology, School of BEES, ERI and UCC are delighted to host two eminent plant scientists as part of Science Week in UCC.
These talks are FREE and OPEN TO THE PUBLIC.
Wed November 15th @ 6.30pm in Boole 1
Sir David Charles Baulcombe FRS. Plant Science, University of Cambridge
David is credited with the discovery and characterisation of an RNA silencing system that protects plants against viruses. This system also affects the patterns of plant gene expression.
Title : Non coding RNA and non Mendelian inheritance in plants
Dr Henry Daniell is Professor and Director of Translational Research at the University of Pennsylvania, USA. He pioneered chloroplast genetic engineering as a new platform to produce and orally deliver low cost vaccines and biopharmaceuticals bioencapsulated in plant cells. His invention was ranked by Nature Biotechnology among the top ten inventions of the past decade and among Biomed Central's Hot 100 authors in the world.
Title : Affordable biopharmaceuticals and enzymes made in plant cells