News
News
University College Cork partners with SportsKey to move the booking of their sports facilities online.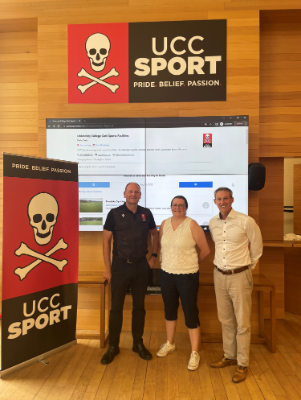 University College Cork Sport is using SportsKey's sports facility management software to help maximise the use of their sports facilities and get more people playing sport in Cork.
Students and the wider community will now be able to find and request to book UCC's sports facilities through a single online platform. The University has 54 sports clubs and boasts outstanding sports facilities across two venues. The Farm Curraheen boasts 50 acres of grass pitches and a synthetic cricket crease. While at the Mardyke Sports Grounds, both grass pitches, a water based synthetic pitch, an athletics track, and a Pavilion function room. The Mardyke Sports Grounds is also home to the state-of-the-art Mardyke Arena.
Morgan Buckley, head of Sport and Physical Activity at UCC says of the development: "We're delighted to be working with SportsKey to get more people in the Cork community playing sport."
SportsKey provides sports facility booking, scheduling and access control software. Founded in Ireland, SportsKey has customers worldwide – including North America, South Africa, Australia, and the United Kingdom. SportsKey is on a mission to help 20 million people play sports by 2024 by making sports facilities more accessible to their communities.
SportsKey's co-founder and CEO Craig Bewley has a long-standing background in the business of sport in Ireland, co-founding the Irish Tag Rugby Association and the outdoor sports events company Alive Outside.
Bewley says of the partnership, "We are delighted to partner with UCC Sport and help enable them to maximise the use of their fantastic sports facilities and get more people playing sport."
The two organisations are thrilled to make it easier for people in the Cork area to use their local sports facilities.