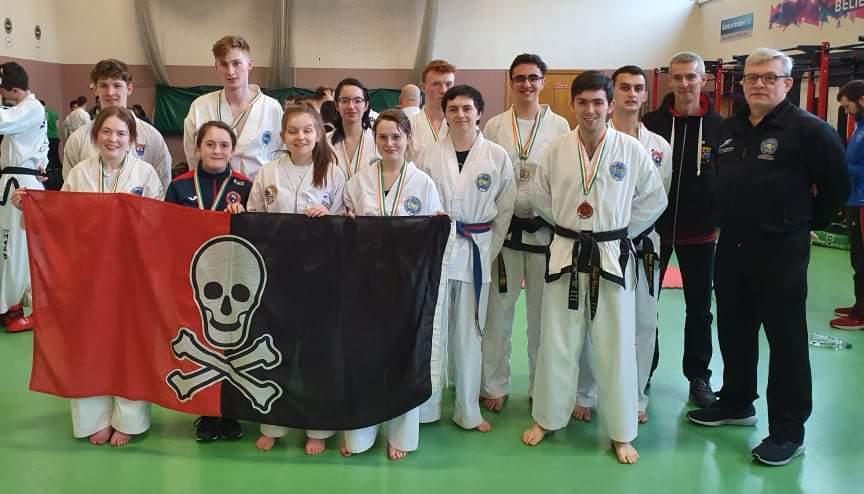 Taekwon-Do
Learn More
About
UCC Taekwon-Do Club was founded in 1984 and was one of the biggest and most successful martial arts clubs on campus. Taekwon-Do classes were conducted by Grand Master Norman Creedon (9th dan black belt) and in more recent years by Master JB McCarthy (7th dan black belt) and includes free sparring, traditional patterns, one step sparring, as well as self-defence.
Taekwon-Do is suitable for male and female beginners as well as advanced belts. There are separate classes at the same time for beginners and advanced students. The club welcomes practitioners from all TaekwonDo associations and styles.
Whether you are interested in getting fit, losing weight, making new friends, having fun, self-defence or entering competitions, UCC Taekwon-Do Club caters to all requirements. TaeKwon-Do focuses on both traditional and practical elements.
By encouraging students to spar soon after beginning training, it helps promote confidence in one's ability to defend themselves. Students are trained to be able to react in real self-defence scenarios, so they learn basic joint locks, pressure points and releases from grabs. UCC Taekwon-Do Club has consistently performed at the highest level at the annual Irish Taekwon-Do Intervarsity competition (including overall winners). In addition, there is the Open Martial Arts Intervarsity which includes Karate, Kickboxing and other striking arts competing along Taekwon-Do.
If you are interested in competition then there are plenty of local, national, and open martial arts competitions. Bring along a friend and try it out on ! Just wear a track suit or shorts and t-shirt, all equipment is provided.
Connect with us
Results
There are currently no results.
All Taekwondo Events
There are currently no events scheduled. Sorry
All you need to know about Taekwon Do