News
News
UCC Rowers win Seven Medals at World Rowing Cup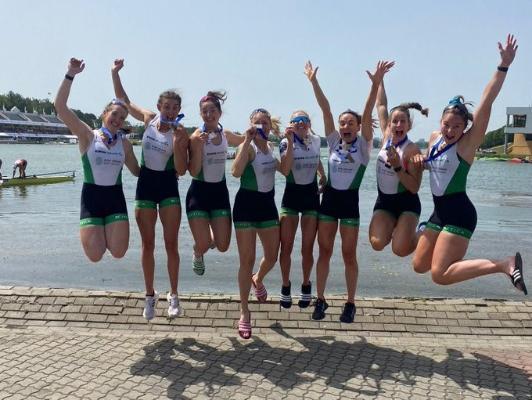 Of the six Irish crews that won medals at the World Rowing Cup in Poznan, four contained UCC students or alumni.
In what was an all UCC boat, Margaret Cremen partnered UCC Alumnus, Lydia Heaphy, to claim bronze in the Lightweight Women's Double Sculls.
The Women's pair saw UCC Rowing Club's Emily Hegarty partner Fiona Murtagh to win bronze. UCC Alumni, Tara Hanlon and Aifric Keogh also won bronze in the Women's four alongside crew mates Eimear Lambe and Natalie Long.
Current UCC student, Fintan McCarthy, won silver in the Lightweight Men's Single Sculls, and UCC Rowing Club's Head Coach, Sanita Puspure, claimed silver alongside Zoe Hyde in the Lightweight Women's Double Sculls.
The success of the University's rowers at the World Cup concluded what was a significant week for UCC athletes on the international stage.
At the beginning of the week, Ayla O'Sullivan was selected to represent Ireland at the under 21 European Karate Championships in Prague, news that was quickly followed by the inclusion of Clodagh Hayes and Paddy Redmond in the Irish Badminton squad for the 4 Nations Graded International Badminton Tournament in Cardiff.
A quick-fire double announcement came on Friday, when Caoimhe Perdue was selected in the Irish Women's Hockey squad for July's World Cup, and George Coomber, Andrew O'Mahony and Ronan O'Sullivan were all include in the under 20 Irish Rugby squad for the upcoming Under-20 Summer Series.