2015 News
2015 News
Ollscoil na hÉireann, Scoláireacht Chiste Theach an Ard-Mhéara 2015
Comhghairdeachas le Máiréad Carey as Scoláireacht Chiste Theach an Ard-Mhéara 2015 de chuid Ollscoil na hÉIreann a bhaint. (L-R): Uachtarán Michael Murphy, Máiréad Carey, agus an tOllamh Pádraig Ó Macháin.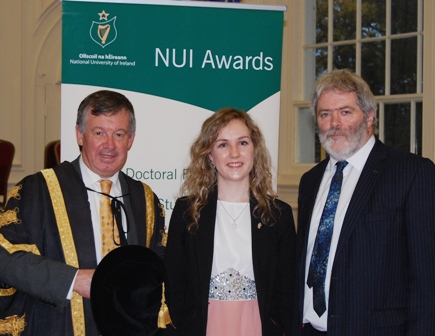 Bardic Poetry Seminar
The public/postgraduate seminar on editing Bardic Poetry, directed by Professor Ó Macháin, has resumed on Tuesdays, 3 p.m. in the seminar room.
Ó Longáin Conference (27-28 August 2015)
The conference on the Ó Longáin scribes, their life and times, was a great success, and a large attendance bore witness to the quality of the papers and the great interest that exists, nationally and locally, in this remarkable scribal famaily.
2015 IRC Scholarship
Congratulations to Andrea Palandri, one of our doctoral students, on being awarded an Irish Research Council Government of Ireland Postgraduate Scholarship.
2015 NUI Dr H. H. Stewart Literary Scholarship
The National University of Ireland Dr Henry Hutchinson Stewart Literary Scholarship for Irish has been awarded to Aisling Ní Dhonnabháin (2nd Year), based on her First Year examination papers. We congratulate Aisling on this prestigious reward, and her first-year lecturers for once again demonstrating the excellence of their teaching.
Séamus Ó Maolchathaigh Collection
Prof. Pádraig Ó Macháin and Fr James Mulcahy (son of Séamus Ó Maolchathaigh, author of An gleann agus a raibh ann) on the occasion of the donation to UCC of his father's books and papers.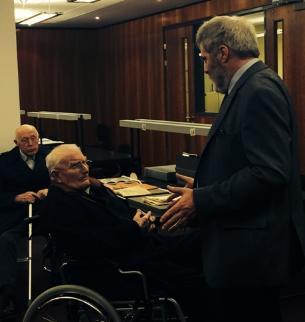 At the April 2015 MA Conferring
At the recent MA conferring: Seán Ua Súilleabháin, Jimmy Crowley and Pádraig Ó Macháin.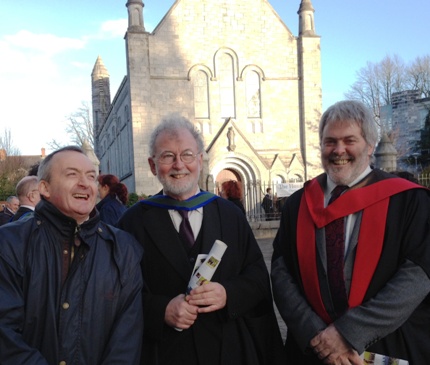 The Second Years in the Déise, February 2015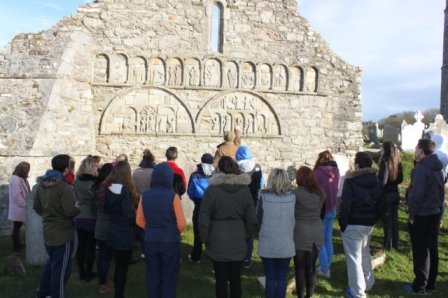 The Second Years in the Déise, February 2015.
Late Medieval Legal Deeds in Irish Seminar
Prof. Pádraig Ó Macháin will resume his weekly seminar this Friday (23 January 2015), at 3 p.m., ORB G.20.