Intercalated Degrees
Intercalated Degrees
Intercalated Degrees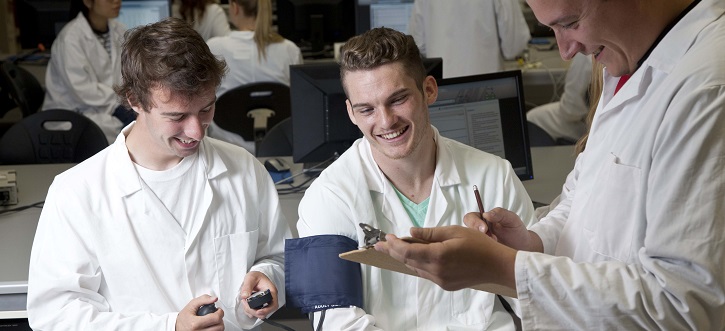 Master of Research (MRes) in Medical Sciences
The MRes in Medical Sciences provides an excellent opportunity for intercalating medical students to expand their horizons in research, allowing them to develop skills and competencies which will serve them well throughout their career.
Completion of an intercalated MRes degree is an opportunity for medical students to develop more in-depth specialist knowledge in their selected topic and to enhance their skills in scientific research. Undertaking a research-based Master's degree has been shown to enhance career prospects across variety of clinical specialties, while allowing students to enjoy an immersive research experience in a field of interest.
Students will be given the opportunity to conduct independent research through practical experience in formulating appropriate research strategies, methods, data collection and analysis via a 12-month research project. Intercalating students will work within a postgraduate, academically challenging environment to develop new and transferable skills that will enhance their professional development.
For further information on this programme and submission of Expressions of Interest please contact:
Programme coordinator: Dr Colm O Tuathaigh
T: 021 490 1598
Brochure available here: Master of Research in Medical Sciences
All applicants must be approved by the MRes programme coordinator and programme team prior to submission of application via www.ucc.ie/apply. The number of places is limited and decisions on entry to the programme will be made on the basis of the following criteria: academic qualifications, research experience and focus, quality of scientific project proposal, and strong recommendations from two academic referees.
Intercalated BSc Hons Degrees
During their medical training, students at UCC can apply to take programmes in Science leading to the award of a BSc (Hons) Degree in Anatomy, Biochemistry, Pathology (Medical Microbiology), Pharmacology or Physiology. Students complete these degrees after their third year in Medicine (Anatomy BSC, Biochemistry, Pathology (Medical Microbiology), Pharmacology or Physiology). These programmes are usually for one year.
Diploma in Public Health
The Diploma in Public Health is a full-time programme delivered over 9 months. The programme allows students to specialise in a specific pathway as follows: Health Promotion, health protection or epidemiology.