2022
2022
12 Dec 2022
Tiffany was recently awarded a PhD for her thesis "The taphonomy of feathers". She is continuing her research as a postdoc in the McNamara lab, but as Dr Tiffany Slater! Stay tuned for updates about her exciting new research on feathers and skin...
5 Dec 2022
Rule number 1: pack for the best geology possible. Valentina packs three hammers!
28 Nov 2022
A long overdue trip to the Fran well to welcome Hollie, Peter and Märta, and to catch up with Aaron and Valentina after their recent trip to Australia.
21 Nov 2022
Last week was Cork Science Festival where Ireland's Fossil Heritage showed a bunch of cool Irish fossils and hosted fun palaeogames for visitors to play. One of our volunteers was Märta, our newest research assistant. She thought the event was a lot of fun and was happy that so many people showed up!
14 Nov 2022
Aaron recently returned from a few weeks in the field in Australia! Before going into the field though they had a day to explore and decided to take in the amazing exhibits at the Australian Museum, which ithis really awesome T. rex dissection! Having now returned and recovered from the jet lag it's been nice to get back into routine and to celebrate Zixiao's birthday with the lab.
7 Nov 2022
Hollie recently visited the Museum of Geology at the University of Cambridge to look at bird skins in their collection. She took the chance to visit some of the other museums, including the Sedgwick Museum of Earth Sciences, which houses many great fossil specimens.
31 Oct 2022
Naomi recently assisted Jess with finding fossils at a beach in Cork! This data point feeds into the fossil map developed by the Ireland's Fossil Heritage project.
24 Oct 2022
A recent tragedy has turned into a series taphonomic observations: cause of death, transport, scavenging and decay. It interesting to see that most soft tissues were gone after two weeks, while the skeleton remained well articulated and the flight feathers were still attached to the forelimbs. Photos from Zixiao!
17 Oct 2022
Last week, Hannah and other researchers/colleagues funded through iCRAG, the SFI Research Centre in Applied Geosciences, attended the Environment Ireland 2022 conference. If you're interested in reading more, head over to Hannah's Twitter @HannahBinner or to iCRAG's Twitter page @iCRAGcentre.
10 Oct 2022
Bea has been traveling a lot lately! She went to Antrim for a weekend to look for fossils along the Larne Bay with Maria, Chris, Holly and a really cool group of undergrads. Right after she headed to the Natural History Museum in London with the group for SVPCA 2022, where the group did amazing! Huge congrats to Zixiao for winning best talk and to Valentina and Tiffany for earning honourable mentions for their talk and poster (respectively). At the NHM, she had the opportunity to recreate Mary Anning's portrait next to one the fossils she found. After SVPCA she headed to the Veterinary Hospital in University College Dublin with Dan and Aaron to collect samples. Their osteological collection is amazing! All the horse bones in the image have tumours, but she had never seen anything like the one in the middle!
3 Oct 2022
The Rescue Kit – all the non-emergency essentials for our imminent fieldwork in Oz!
26 Sept 2022
Jess has spent the last few months traveling around Ireland looking for fossils! She visited towns and cities all around the country hunting for urban fossils in the buildings and paving stones and she also went to the beautiful North Antrim coast to see the spectacular fossils there. She has added these sites to Ireland's Fossil Heritage map, so you can go and see all these fossils for yourself! Check it out: https://www.ucc.ie/en/fossil-heritage/map/
19 Sept 2022
Dan and Daniel took a short trip to Museum of Kulturhistorisches Museum Magdeburg to view the collection and drop off the fossils found during fieldwork in Germany. Hopefully Dan's PhD project will turn out more successful than the Magdeburg Unicorn palaeo-reconstruction (!).
14 Sept 2022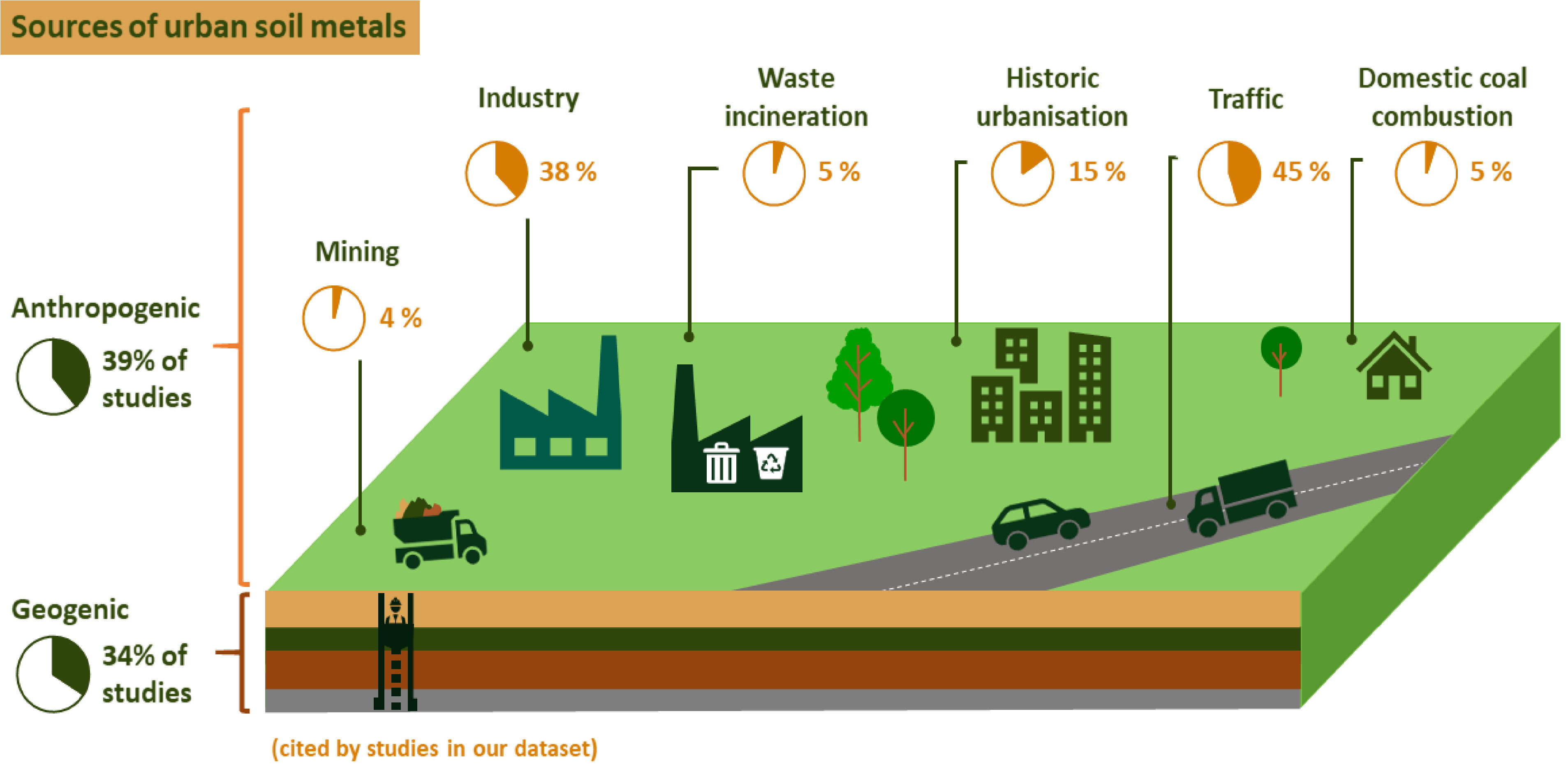 The Cork palaeo group's very own environmental scientist, PhD student Hannah Binner, has just published her first paper on soil metals in the prestigious journal STOTEN (Science of the Total Environment). The study reports that over half of urban sites – mostly parks, playgrounds and sports pitches – have contaminated soils. In almost half of cases, contamination is linked to natural geological sources, and in almost 25% of cases, to human activities, especially traffic and industry. Link to paper is here.
12 Sept 2022
Daniel and Dan are off to Germany on a fieldtrip to investigate the ichnofauna within mid-late Permian sediments of the Hornburg formation. After painstakingly removing layer after layer of sandstone blocks, interbedded mudstone layers revealed an abundance of insect tracks, jelly fish, and, as suspected, tetrapod tracks!!
6 Sept 2022
We are delighted to welcome Hollie Bean to the group! Hollie started her PhD in September and is the recipient of an IRC Postgraduate Scholarship. For her PhD she will be working on feather melanosomes – exciting stuff to come!
5 Sept 2022
Tiffany and Bea are celebrating a rainy day in the office by doing a puzzle of a crinoid!
29 Aug 2022
Valentina is super excited to be part of the TEDxBOLCA (a great opportunity to talk about palaeontology to the public) event!
22 Aug 2022
Aaron has been busy in the lab carrying out melanin extractions in preparation for the upcoming SVPCA conference in London!
15 Aug 2022
Taphonomy in action! Bacterial biofilm surronding a wasp in a bucket from Maria's garden.
8 Aug 2022
Two hours of polishing to get this beautiful section across the bone and skin of a dinosaur – Zixiao can't wait to put this under the SEM!
1 Aug 2022
The summer has been busy for Hannah and her soil!
In June, the EPA published a report that Maria and Hannah worked on together to show the nitty-gritty details and some potholes of soil policy in Ireland. The research was coined MUCKISOILS, which is short for Mapping Understanding and Current Knowledge: Irish Soils. The full report plus eye-catching infographics can be read here.
In July, Hannah was busy helping out with PalAss 2022, including the Family Fossil Expo, which is aimed at communicating science to children. At this event, Hannah got to demonstrate how soil, water and palaeontology are all connected. For example: As water passes down between the granules of soil, it is stored underground and very well sealed. At thousands of kilometres from the surface, and after many thousands of years, this can then be called "fossil water" or "palaeowater". We often "pump up" this water and use it, but if we want to continue this cycle, we need to pay close attention to our soils, which are an essential filter for our water.
25 Jul 2022
Bea just had her first PalAss experience! Organizing a conference is so much work, but it was nice to spend more time with everyone in the group and other palaeontologists! The after conference meet ups each day were so much fun!
18 Jul 2022
First day of PalAss 2022 (the 66th Annual Meeting of the Palaeontological Association) week down, four to go! Today's Family Fossil Expo was extremely successful - we had over 710 confirmed attendees. Afterwards we were able to wind down with some pizza before heading on to the Royal Irish Academy discourse lecture delivered by Prof. Larisa de Santis from Vanderbilt University in Tennessee. Here's a lovely group photo of some of the volunteers and members of UCC's Palaeogroup that worked really hard together to make this happen!
11 Jul 2022
Last week Ireland's Fossil Heritage visited Hook Head, Co. Wexford with the winner of the 2022 National Fossil Art Contest - Braden McDonnell and his family. The day was spent inspecting the Carboniferous limestone on the peninsula and all it's incredible fossils. Braden said it was the best day out ever!
5 Jul 2022
Big congratulations to Daniel, whose first paper is published today in Special Papers in Palaeontology!
27 Jun 2022
Getting ready for conference season! Time to look at some awesome Irish dragons and their preserved soft tissues.
20 Jun 2022
Dan and Aaron are in Dublin this week to do some animal dissections at UCD veterinary hospital for our research.
15 Jun 2022
This week Bea, Dan and Aaron have been attending Progpal! It's been great to attend an in-person conference for the first time and to get to know all about the research that's currently going on as well as sharing their own!
9 Jun 2022
Jess got a quick photo taken just before the busy launch of the new children's art exhibition on the 9th of June in the Glucksman Gallery! The exhibition will celebrate the artwork of Irish schoolchildren – and fossils – in two exciting new collections as part of the Ireland's Fossil Heritage project, FOSSIL FREAKS and IRISH FOSSILS ALIVE.
30 May 2022
Here is Zixiao in the Lough collecting water and sediment samples for decay experiments.
23 May 2022
Hannah's PhD on urban soils has transformed her gardening. Alongside growing vegetables, testing the soil quality and making sure the growing conditions are just right, Smudge (cat) acts as natural weed control by rolling in the soil and knocking down any weeds that are coming up. Excuse the mess - the picture was taken during 'No Mow May'.
16 May 2022
Bea recently got back from her first synchrotron trips to Soleil in Paris. She got a chance work with X-ray fluorescence at the Nanoscopium beamline and infrareds at the SMIS beamline. It was very tough work but she had fun and she learned a lot! She also got to use liquid nitrogen, which was scary but very cool.
10 May 2022
Maria awarded SFI Frontiers for the Future grant! In this project Maria plus PhD student Aaron Quigley and colleagues will investigate how, and why, melanin evolved in vertebrates, by better understanding the biology of melanin in modern-day vertebrates and how this is impacted by aspects of the fossilization process.
3 May 2022
Jess was recently on holiday along the Yorkshire coast. This coastline is famous for its geology and incredible fossils found in the Jurassic and Cretaceous rocks. Jess found some amazing fossils including belemnites, bivalves and partial ammonites!
25 Apr 2022
Daniel wants to do statistics on his data. But which is the most suitable program for his analysis? Let's try and find out!
20 Apr 2022
Paper in Nature + front cover next week = happy PI!
11 Apr 2022
After two long years of restricted travel, it feels so nice to be back in action. Here is Valentina visiting the beamline Nanoscopium at the Soleil synchrotron near Paris.
4 Apr 2022
Valentina is teaching Dan and Bea how to extract melanin from tissue samples: here they are working on some seabass!
28 Mar 2022
Having only recently started his PhD, Aaron has been heavily involved in reading the literature, keeping himself up to date with the latest information and techniques. He'll be getting started on some lab work soon!
21 Mar 2022
Maria is busy preparing samples for an upcoming visit to the synchrotron facility at Soleil in France!
14 Mar 2022
Zixiao was at the Lough lake testing the presence of sulfate-reducing bacteria, a key agent in the formation of phosphatized fossils. The result was positive, so he will go back and collect water and sediments from the lake for coming fossilization experiments!
7 Mar 2022
Mental health is incredibly important! And minding your mental health while doing a PhD is even more important - so Hannah is sharing two things that are making all the difference: her cat Smudge and some little seedlings growing into homegrown food in the window (which is definitely related to her research on soils!).
28 Feb 2022
This week Jess and Maria visited Ballyvongane National School in County Cork to deliver an interactive workshop. The students learned all about trace fossils, mass extinctions and environmental change.
21 Feb 2022
Bea is finally ready to get started in the lab! She is very excited to learn new techniques from her amazing lab mates!
14 Feb 2022
Jess has been busy preparing the materials for Ireland's Fossil Heritage school workshops starting very soon. The workshops will involve lots of fun fossil activities, including experimenting with various sediment to see what preserves the best dinosaur footprint! For more information on the school workshops check out the Ireland's Fossil Heritage website: https://www.ucc.ie/en/fossil-heritage/workshops/
7 Feb 2022
Daniel prepares samples for his upcoming analysis. He embedded a tiny piece of a fossil frog in liquid resin. To solidify the viscous resin, he "baked" it at 60 degrees for 24 hours in a special oven. Once that's done, Maria will put the sample under a microscope, slice it into very thin and flat sections and transfer them to a glass slide. Only then can Daniel analyse his samples with different techniques.
31 Jan 2022
Aude has been working in the lab recently, using the scanning electron microscope to image decayed and matured skin and feathers.
24 Jan 2022
How lovely is this little Irish dragon? Keraterpeton galvani is an amphibian from Jarrow, Co Kilkenny, and lived around 310 million years ago!
17 Jan 2022
Getting under a dinosaur's skin - Zixiao has been examining skin samples from a Psittacosaurus, a weird-looking dinosaur that had both scales and feathers.
10 Jan 2022
Done and dusted! Just before the break over the holidays, Hannah finished all 20 sites of her fieldwork. One of the last few sites proved quite a challenge once the days were starting to get shorter and it was sampled by the light of a flashlight - but all is well that ends well! The very last site was even sampled in some glorious sunshine.