Cork Science Festival
Cork Science Festival
2017
Members of the Palaeo group and undergrad volunteers from the School of BEES put on a good show at this year's Science Festival! We spoke about dinosaurs and their footprints, as well as fossil insects!
It was held in UCC on the 12th of November…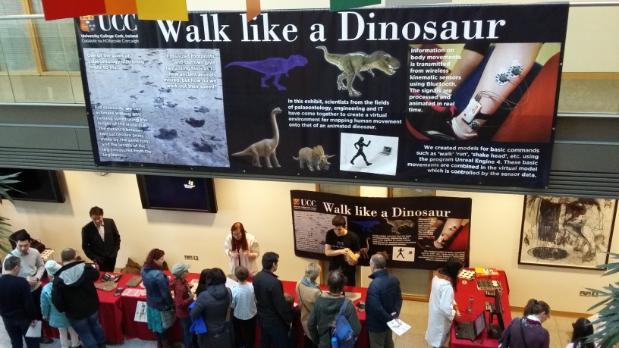 … and in Blackpool on the 19th of November (thanks to Prof Sarah Culloty for the below photos!).
2016
Maria and her students had a stand for Cork Science Festival (13th to the 20th of November). They were speaking with the public about fossil colour! The exhibition below is at University College Cork.

In the video below, Maria explains (as Gaeilge) how we study colour in fossils animals (click to open Vimeo link).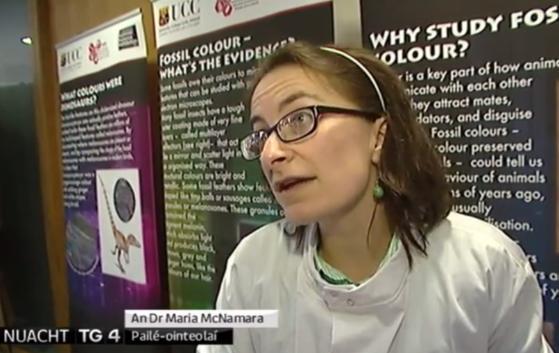 Cork Science Festival was also held in Blackpool, where members of our research team (along with various undergraduate and postgraduate volunteers) spoke about insects and dinosaurs!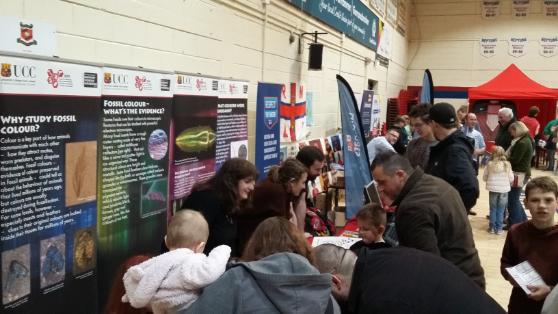 2015
We hosted a new exhibit at the 2015 Cork Science Festival – 'Walk like a Dinosaur'. Visitors put on wellies bearing dinosaur 'feet' and walked along a paper trackway, before their stride and leg length was measured. Visitors were also able to touch real fossils at the exhibit. Many thanks to all the volunteers who helped man the stand!