News and Events
News and Events
Student Researchers wanted for Traveller Equality and Justice Project Legal Clinic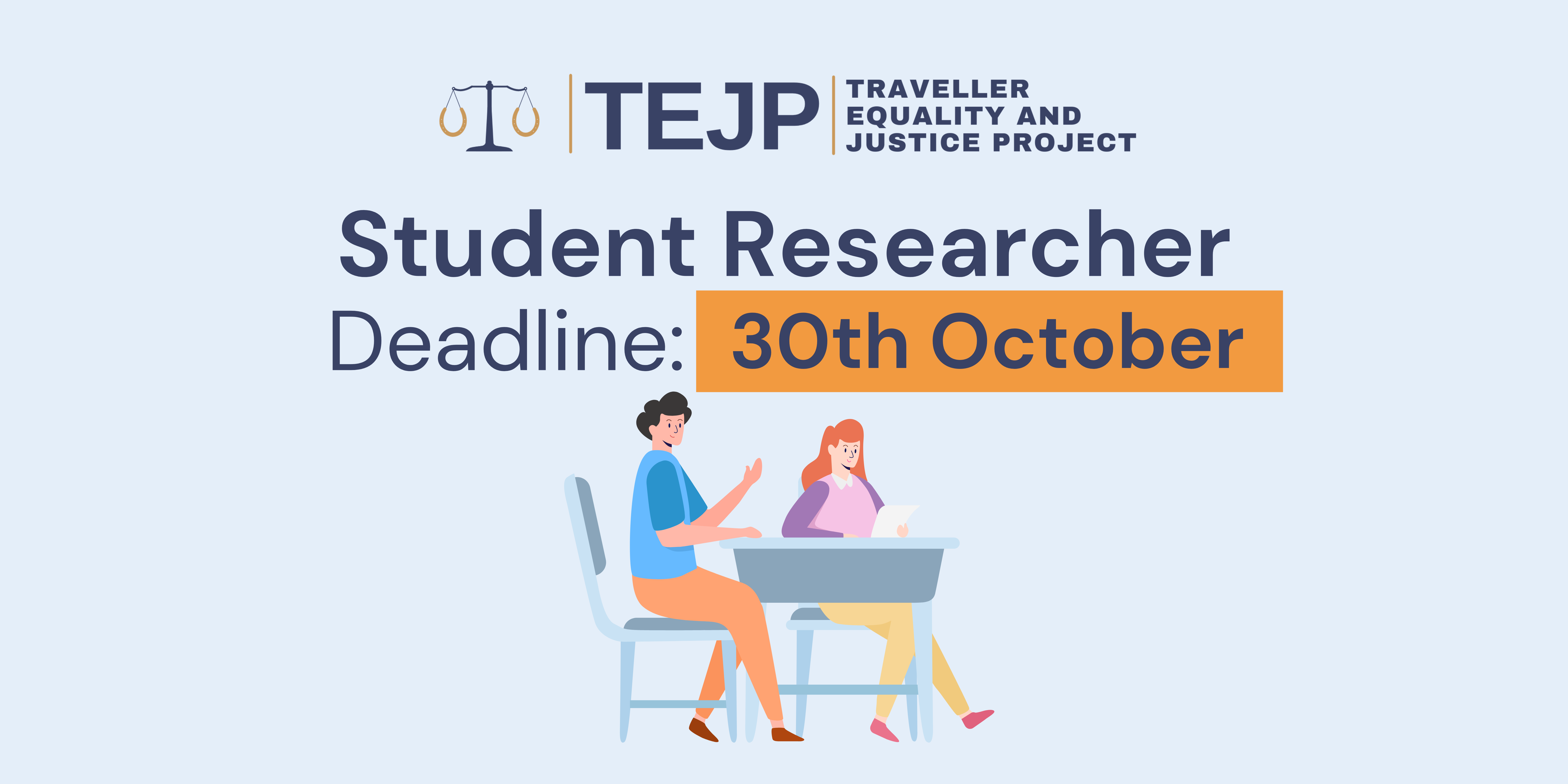 The Traveller Equality and Justice Project at UCC is offering final year Law undergraduate students and Erasmus students at the School of Law the unique opportunity to gain hands-on court observation and research experience.
The Traveller Equality & Justice Project (TEJP) is an innovative collaborative project between the Centre for Criminal Justice & Human Rights (CCJHR) at the UCC School of Law and the Free Legal Advice Centre (FLAC). TEJP has established Munster's first Traveller-specific legal clinic, providing access to justice for Travellers who have experienced discrimination and have been refused access to goods and services, as well as undertaking several research outputs, including a Traveller law textbook and database.
Get involved!
The TEJP clinic is now recruiting final year Law undergraduate and Erasmus students, who are invited to apply to become Student Researchers, assisting in District Court observation and case research.
As a Student Researcher, you will work directly with the TEJP team in observing court cases and researching cases to be included in the Traveller Law database.
Your tasks will include (but are not limited to):
Visiting the district court and taking notes on proceedings, interacting with court clerks, using CSOL to locate cases,
Researching Traveller law cases and writing reports to be included in the database,
Participating in unique training opportunities including Traveller Culture Awareness Training, Sensitivity Training on Working with Vulnerable Clients and FOI training,
Interacting with and learning from TEJP partners including esteemed barristers, solicitors and legal professionals (including large law firms),
Other research work may arise over the course of the project.
Requirements:
Strong editorial and proofreading skills,
Interpersonal skills,
Driving license/access to transport is a bonus.
There is no requirement of previous court experience or specific modules to engage in this opportunity – we do ask that in your application you show how your module choice and experience has given you the skills to assist the TEJP, but all modules and experience are relevant!
Benefits:
Gain experience in human rights and equality law,
Excellent practical experience and transferrable skills, including court experience,
Chance to use proprietary case research software (Vizlegal) not available in UCC.
Successful applicants will need to be able to undertake approx. 3 hours research or observation work per week throughout the 2021/2022 academic year.
Speaking about the opportunity, TEJP Director Dr Fiona Donson said:
Involvement with the TEJP will give students valuable insight into social justice issues while building practical lawyering skills through work on live equality cases. The TEJP provides students with hands-on public interest experience as well as fostering a deeper understanding of the reality of access to justice in Ireland.
Student researcher numbers are limited. In order to be considered for this fantastic opportunity, please apply by midnight 30th October.
If you have any questions about this exciting opportunity, please email TEJP@ucc.ie.
Visit the TEJP website at: https://www.ucc.ie/en/tejp/