News
News
'A Bee at UCC' mural unveiled at Brookfield Health Sciences Complex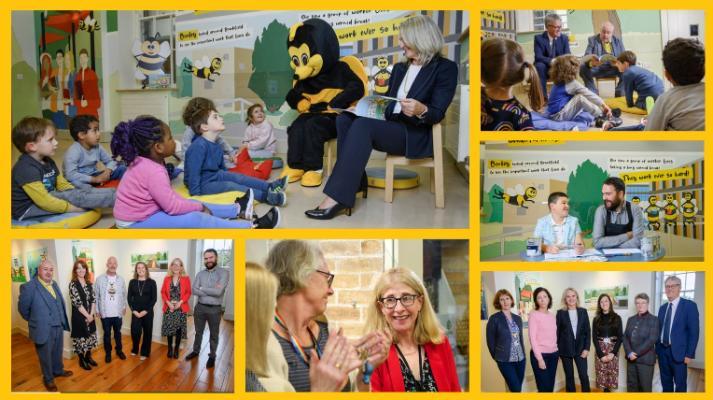 A bright mural will now welcome young patients, families, and staff at Brookfield Health Sciences Complex (BHSC) in University College Cork (UCC) as the University unveiled the large artwork today.
UCC commissioned artist Kevin O'Brien to create the mural inspired by 'A Bee at UCC', a book written by JP Quinn, Head of the UCC Visitors' Centre and illustrated by UCC graphic designer Charlie Ruxton.
Unveiling the mural 'A Bee at Brookfield', Professor Nicole Müller said: "Combinations of color, lighting, and texture are key to setting the tone for spaces such as patient waiting rooms. The mural has transformed our reception into a warm, bright and welcoming space for our paediatric clients from HSE and South Infirmary Victoria University Hospital (SIVUH)".
Due to COVID-19 restrictions, toys and children's books had to be removed from the clinic reception which left the waiting rooms less welcoming.
The large handpainted mural features six images which together form a giant story book that takes the reader on a fun journey with Booley the Bee through Brookfield, incorporating themes of sustainability and linked by a simple yet meaningful storyline written by JP Quinn.
Celebrating 'A Bee in Brookfield' in the Jennings Gallery
It was wonderful to gather in the Jennings Gallery to acknowledge to importance of art to all age groups – especially to children.
UCC President Professor John O'Halloran said: "In addition to creating a more colourful and relaxing environment for our visitors, we hope the mural will highlight the many ways humans greatly benefit from a healthy honey bee population."
Professor Helen Whelton, Head of College of Medicine and Health, said: "Feedback from staff, students, visitors, HSE clients and HSE and SIVUH clinicians has already been very positive with an improved experience all round for young HSE clients."
Eight-year-old James Lee from Ballincollig attends the clinic for speech and language therapy.
His father Philip Lee said: "The mural helps keeps James calm, more grounded which is really welcome. James has a short attention span so just being in the waiting area is difficult; ideally I don't want to give him my phone before a speech and language session so the mural keeps him entertained."