News
News
University College Cork announces Sanctuary Fellowship scheme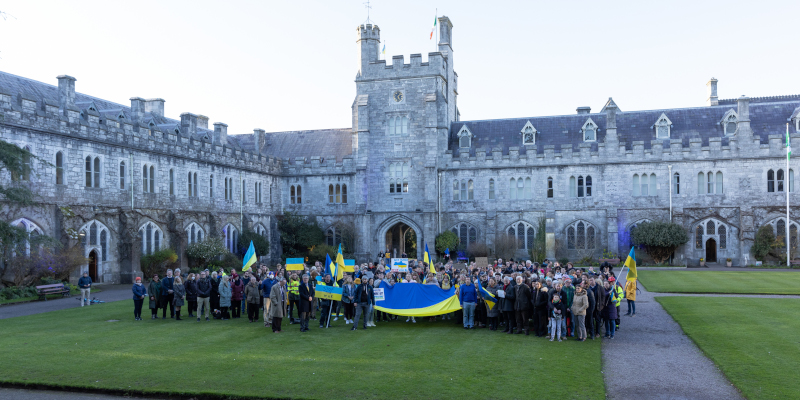 In response to conflicts across the world, University College Cork (UCC) today announces that it has created a Sanctuary Fellowship Scheme.
Through this scheme scholars and staff members from universities, and other third level institutes outside of Ireland, who are at risk as a result of conflict or other serious human rights violations can apply for a six month fellowship in UCC. It is the first fellowship of its kind in Ireland's higher education sector.
First fellowship of its kind in Ireland's higher education sector
Under the fellowship UCC will provide 6 fellows a support package including a start-up grant and a monthly salary for six months. Each fellow will also be linked to a UCC mentor who will act as a focal point to provide social and professional support on a peer-to-peer basis.
The announcement was made today at UCC's graduation ceremony. "In Ukraine, Afghanistan, Syria and Yemen, millions of people are currently displaced as a result of war, conflict and human rights violations. As an academic institution and a University of Sanctuary, UCC has an obligation to provide support and protection to our colleagues from other third level institutions in countries facing such threats" Professor John O'Halloran, President of UCC stated in a speech to graduates.
All applications for the Sanctuary Fellowships will be reviewed by a dedicated sub-group of the UCC University of Sanctuary Working Group. Further details on the fellowship and the application process can be found on ucc.ie/ukraine-response/
"The support and solidarity shown by UCC staff and students to refugees and scholars at risk over the past few months has been an inspiration, and reflects the fundamental importance of UCC as a University of Sanctuary", said Dr Dug Cubie, chair of the UCC University of Sanctuary Working Group.
New free short course for Ukrainian students
University College Cork through its Adult Continuing Education (ACE) centre has also launched a new free 3 day short course for displaced Ukrainian students recently arrived in Ireland. "An Introduction to Student Life" in Ireland" will cover subjects such as Life in Ireland for a Young Adult, Ireland, politics and society and getting sorted: communications and services, conversational English and an exploratory tour of Cork. The courses will run from 19th April-2nd June and students must be at least 18 years of age.
"These initiatives, combined with our Sanctuary Scholarships, are powerful ways in which UCC is seeking to foster a culture of welcome and inclusion in our society for all those seeking sanctuary. We look forward to working with Government and philanthropic partners to enable us to sustain and extend these supports" stated Professor John O'Halloran, President of UCC.
Original story available here.