News
News
MaREI team wins SFI Engaged Research of the Year Award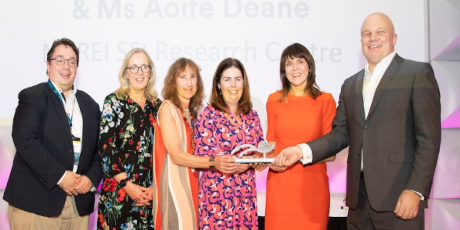 MaREI's transdisciplinary research group based in the Environmental Research Institute at University College Cork (UCC) that is harnessing the community spirit on the Dingle Peninsula to advance a groundbreaking engaged research initiative called Dingle Peninsula 2030, won the 2022 Science Foundation Ireland (SFI) Engaged Research Award last night.
The recipients were Ms Aoife Deane, Public Engagement Manager and Prof. Brian Ó Gallachóir, Director, MaREI , the SFI Research Centre for Energy, Climate and Marine Research at UCC and the Dingle Peninsula 2030 team with the announcement made at the SFI Science Summit last night.
Dingle Peninsula 2030 is co-producing solutions with the community to address critical energy and climate challenges while also building societal resilience and capacity. MaREI has established a diverse multi-disciplinary research team combining expertise from energy engineering (Prof. Brian Ó Gallachóir, Dr Connor McGookin), sociology (Dr Clare Watson, Dr Evan Boyle), and community engagement (MaREI Public Engagement Manager, Aoife Deane), who work in a deeply embedded way with the community partners in the Dingle Peninsula 2030 team.
News & Media | 22-11-22 MaREI team wins SFI Engaged Research of the Year Award | UCC ERI