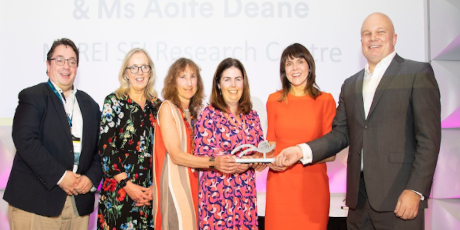 MaREI's transdisciplinary research group based in the Environmental Research Institute at University College Cork (UCC) that is harnessing the community spirit on the Dingle Peninsula to advance a groundbreaking engaged research initiative called Dingle Peninsula 2030, won the 2022 Science Foundation Ireland (SFI) Engaged Research Award last night.
The recipients were Ms Aoife Deane, Public Engagement Manager and Prof. Brian Ó Gallachóir, Director, MaREI , the SFI Research Centre for Energy, Climate and Marine Research at UCC and the Dingle Peninsula 2030 team with the announcement made at the SFI Science Summit last night.
Dingle Peninsula 2030 is co-producing solutions with the community to address critical energy and climate challenges while also building societal resilience and capacity. MaREI has established a diverse multi-disciplinary research team combining expertise from energy engineering (Prof. Brian Ó Gallachóir, Dr Connor McGookin), sociology (Dr Clare Watson, Dr Evan Boyle), and community engagement (MaREI Public Engagement Manager, Aoife Deane), who work in a deeply embedded way with the community partners in the Dingle Peninsula 2030 team.
Professor Seamus Davis gave a keynote address on Quantum Physics at the SFI summit.
'It's a real honour to receive this award and I congratulate SFI for recognising and valuing engaged research in this way. Collaborating with the our partners on the Dingle Peninsula has been such a privilege in building a new understanding of the technical and societal elements of sustainability transitions, as well as highlighting the role of multi-stakeholder collaborations. Integral to all of this has been hugely valuable community participation across all stages of the research cycle, which we were humbled by and are especially grateful for" commented Professor Brian Ó Gallachóir
"We are so grateful to receive this recognition for our research with our community partners. This collaborative approach ensures that multiple perspectives are considered when developing actions to address energy and climate challenges locally which can be scaled up. In our area of research this engaged approach is key to addressing complex societal challenges and the ongoing support from SFI, UCC, and Campus Engage is instrumental" commented Aoife Deane, Public Engagement Manager at MaREI.
Professor Hannah Daly also spoke at the SFI summit on the subject of climate change and Ireland's energy transition.
The winners of the prestigious 2022 Science Foundation Ireland Awards were revealed at the annual SFI Science Summit, held in person for the first time in two years. Joined by over 500 leading members of the Irish research community, SFI is celebrating the contribution researchers have made to our society and economy.
Commenting Professor John Cryan, Vice-President for Research and Innovation stated "I'd like to congratulate the entire MaREI team- this award is a clear recognition of the importance of engaged research in maximizing the impact of research and innovation from UCC."
Cover image: Prof Peter J. Clinch, Chairman of the Board of SFI presents the SFI Engaged Research of the Year Award 2022 awarded to Ms. Aoife Deane, Deirdre de Bhailís of Dingle Peninsula 2030 and UCC colleagues.