UCC International Office Swap Shop
UCC International Office Swap Shop
UCC International Office Swap Shop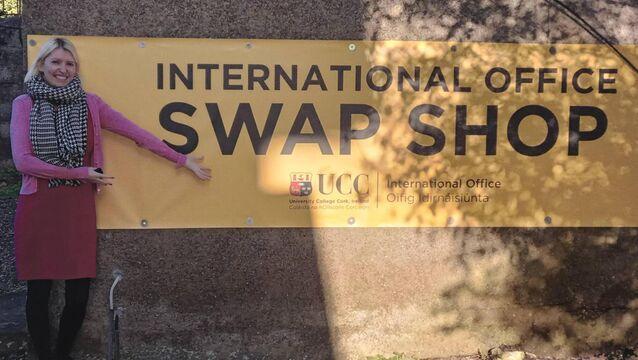 Who are we?
We are Suzanne and Natalie, and we are the International Student Support Team here in UCC.
What is a Swap Shop?
A Swap Shop is a free and local exchange where staff and students donate items they no longer want and make it it available for you to take away. As new students to Cork we want to help you to furnish your apartment and feel more at home without having to spend a fortune. Every penny counts when you are a student afterall!
What is a circular ecomomy?
Our Swap Shop is a perfect example of what's called the circular economy. Rather than relying on new raw materials to create more new stuff, then disposing of it once you're done, the circular economy is about re-using or recycling old stuff to keep resources moving in the economy. By reusing things we cut down on the amount of waste that goes into landfill and reduce the amount of resources that we use in manufacturing of new products. Remember, one man's rubbish is another man's treasure. Plus, it saves you money, so its a win win!
Why did you start it?
Every year when thousands of our international students move out of on-campus accommodation they are told to leave their apartments completely clear. Often, students don't have anywhere to put the stuff they've acquired, resulting in perfectly good utensils like pots, pans, cutlery, plates, and mugs being thrown in the skip and going straight to landfill.
in 2018 the Presidents Strageic Plan had just been launched and so we wanted to contribute at a grassroots level to help further UCC's sustainability mission. In 2018 we came up with the idea of the Swap Shop and have been going from strength to strength ever since.
In March 2020 UCC actually celebrated it's 10th anniversary of becoming the first University in the World to receive a Green Flag from the Foundation for Environmental Education.
When are you open?
Each December and May we open The Swap Shop for students to donate their preloved items to us instead of throwing it out. We collect, we santitise, we organise and we store! Then we open up throughout the semester for our international students to come and browse. Happy shopping!
There is a €3 entry fee which is donated to our charity partner Cork DAWG, a local dog shelter.
Venue: International Office UCC, Roseleigh, Western Road
Date: We are now empty! Closed until further notice.
Time:
Successes
Read more about our story and how we became the first University Swap Shop in Ireland.
€10,000 UCC Living Laboratory Seed Fund Recipient 2019.
Student Affairs Ireland National Poster Project Winner 2019.
YayCork article.
Echo online article.
€1,000 Cork City Council Waste Prevention Grant Recipient 2023.
UCC Green Podcast here.
UCC Innovates newsletter feature coming soon.
UCC TV feature.
Raised over €2000 for Cork DAWG.