News
News
School of History Prize-giving 2021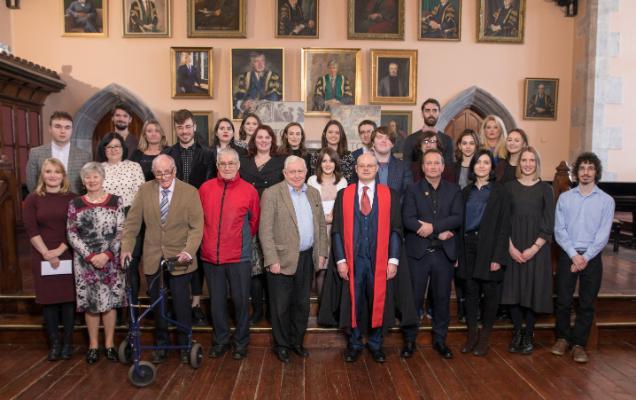 The School of History Annual Prize-giving Ceremony, which was due to take place in the Aula Maxima a couple of months ago, is an annual event celebrating the excellent achievements of students at both undergraduate and postgraduate level. Due to the pandemic we are unable to hold our traditional ceremony this year, but all of the 2021 prize recipients have been contacted and have received their awards. We are extremely proud of their outstanding achievements. Please click on the following weblink for a List of Prizes and Prize Recipients 2021
The event normally provides an opportunity for the staff of the School of History to acknowledge publicly and pay appropriate tribute to the inspiring work of History students. Prizes have been awarded to the History Student of the Year in I, II and III Year, as well as at MA level, for work completed in the last academic year, 2019-2020. Prizes were similarly awarded to European Studies and History of Art students for achievement at undergraduate level.
The event also normally provides an opportunity to acknowledge the generosity of the donors and representatives of the families of donors of various other prizes which were also awarded – the John A. Murphy Prize in Irish History, the John B. O'Brien Annual Prize in History, the Leonora Hanrahan Prize in History, the James and Mary Hogan Prize in History, the Jennifer O'Reilly Prize in Medieval History, the J.J Lee History Prize, The Dermot Keogh Prize and the Michael McEnery Memorial Prize. The Polish Ambassador Prize in Polish History was also awarded on behalf of the Polish Ambassador to Ireland. All of these prizes carry considerable prestige. We are extremely grateful to all the donors for their continued, deeply valued connection with the School of History.
Each year the award ceremony features an address by a guest speaker, either a former student or a former member of the History staff. Last year the ceremony concluded with a presentation by Emeritus Professor Dermot Keogh who discussed the value of studying History in a contemporary and a historic context. Presentation by Emeritus Professor Dermot Keogh
We dearly hope to be able to return to our traditional ceremony format in the Aula Maxima in early 2022.
For details on History prizes and other related scholarships see the Scholarships and Prizes database at https://www.ucc.ie/en/scholarships/