News
News
Chloe Harte, English, won the HH Stewart prize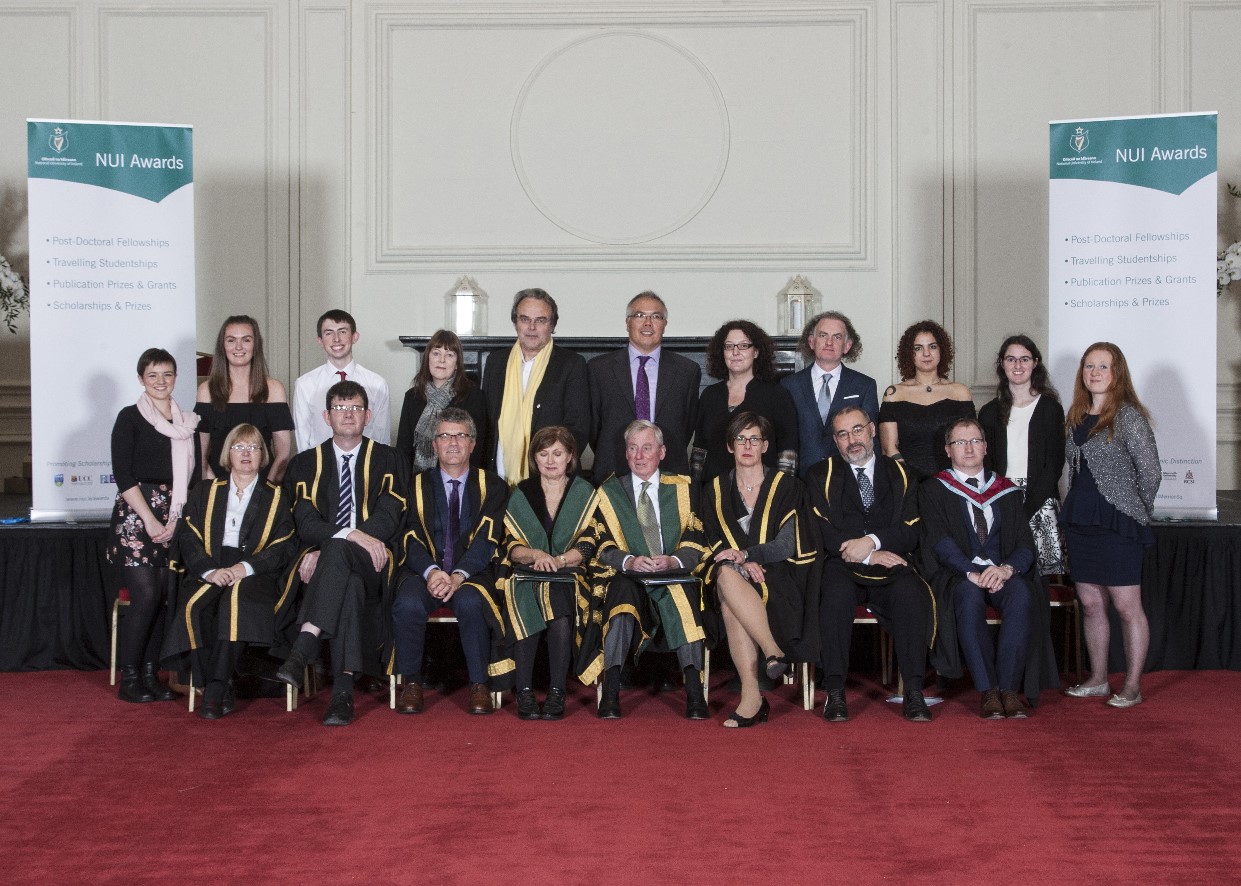 NUI hosted its annual Awards Ceremony in the Royal Hospital Kilmainham on Wednesday 9th November where Dr Maurice Manning, Chancellor of the University, presented awards to NUI students and graduates.
In 2016 NUI has granted awards to a value in excess of €1.2 million to NUI students, graduates, staff and institutions. At the ceremony, NUI honoured scholars of distinction at every stage of their academic studies, from undergraduates to senior scholars well established in their fields of expertise. Speaking at the event, Dr Manning congratulated the awards recipients and said that it was 'a very proud day for the National University of Ireland, one where we can recognise and honour some of the brightest minds and talents across the diverse NUI community.' He went on to say that 'to excel at this level, in this company, is a major achievement' where 'those receiving awards […] have competed against the best of their peers across the National University of Ireland, which is the largest element of Ireland's university system.' Of the ceremony, Dr Manning remarked that 'we are celebrating different manifestations of greatness – a great idea, great achievement, great scholarship, great promise.'
Over one hundred and thirty students and graduates from the NUI constituent universities, recognised colleges and other NUI member institutions were presented with post-doctoral fellowships, travelling studentships and other awards. UCD, UCC, Maynooth University, NUI Galway, RCSI, St Angela's College, Sligo and NCAD were all represented, as were the overseas campuses, the Medical University Bahrain (RCSI) and Penang Medical College, Malaysia (UCD).
In this year when Ireland is remembering the 1916 Easter Rising as the founding moment in the State's history, NUI has also sought to commemorate the Rising in ways particularly appropriate to the University. Special commemorative medals were commissioned to mark this anniversary. These medals were struck in honour of Éamon de Valéra, who played an active role in 1916 and later went on to lead the country as Taoiseach and as President for a significant part of the 20th century. He was also Chancellor of the National University of Ireland from 1922 until his death in 1975. At the awards ceremony each award recipient was presented with a special commemorative medal by the Chancellor.
Included in the NUI Awards offered in 2016 were four NUI Post-Doctoral Fellowships, two in Humanities and two in Irish and Celtic Studies. Travelling Studentships were awarded to support ten NUI graduates undertaking doctoral research in a range of disciplines in Humanities and the Sciences, in the constituent universities and in university campuses across the globe from the University of Notre Dame in Indiana, USA to the University of Cambridge, UK. In addition to this, two Studentships were specially awarded in Mathematics in honour of Éamon de Valéra given his keen professional interest in mathematics, and these formed part of NUI's contribution to the 1916 centennial commemoration.
Other graduate awards presented at the ceremony included the NUI E J Phelan Fellowship in International Law. A range of scholarships and prizes were also awarded to graduate and undergraduate students in Medicine; Nursing; Education; Art and Design; a range of languages and other disciplines. Next year's NUI Awards competition will open for applications in early 2017.
Further information on the NUI Awards can be found on http://www.nui.ie/awards/ and on our social media channels as below.
For further information, please contact:
Lisa Nic an Bhreithimh
National University of Ireland
awards@nui.ie / 01- 4392424
Twitter: @NUIMerrionSq / #NUIAwards16 / #NUI
Facebook: National University of Ireland