News 2015
News 2015
Spectroscopy in a Suitcase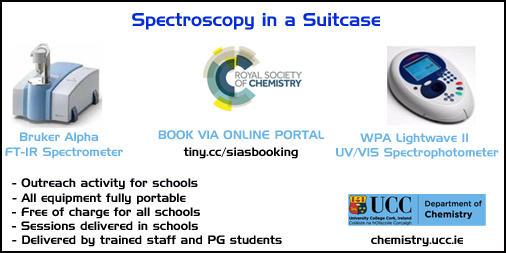 UCC Chemistry are delighted to announce that we are a host institute for the RSC's 'Spectroscopy in a Suitcase' (SIAS) scheme.
The SIAS scheme is an outreach activity which gives school students the chance to learn about spectroscopy through hands-on experience. As well as covering the principles of spectroscopic techniques, the activities use real-life contexts to demonstrate the applications of the techniques. Watch the video to learn more!
The kits are hosted by universities and events are delivered by university staff and students, so have a strong emphasis on encouraging school pupils to consider studying chemistry and the career opportunities available.
UCC are joint hosts of the ATR Infra-red spectrometer and UV spectrometer and the scheme comes with pre designed experiments for the school students to complete. Schools can now book our SIAS Team for a visit by completing the Online Booking Form.