News 2015
News 2015
UCC Chemistry at 'I Wish'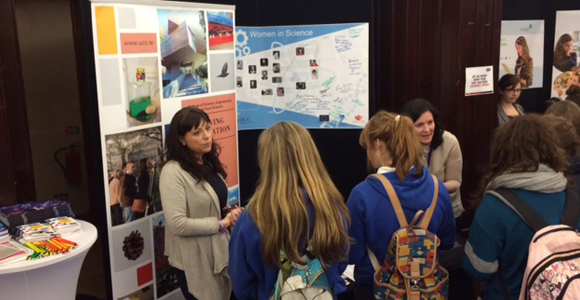 A new initiative entitled 'I Wish' which aims to inspire and encourage young women to pursue careers in science, technology, engineering and maths (STEM) took place in City Hall on 12 February.
There were talks, demonstrations and interactive hubs where female secondary school students met and talked to inspiring women working in STEM roles across a huge variety of sectors including UCC's Prof. Anita Maguire.
Dr. Aoife O'Sullivan (Technical Officer 1st Year) represented Chemistry at the SEFS/Genovate connector stand where she met lots of very enthusiastic girls interested in pursuing Science and in particular Chemistry as a future career. Special thanks to the RSC who provided us with really cool Periodic Tables and glow-in the dark pens and pencils which were very popular with the students.