News 2015
News 2015
Class of 2015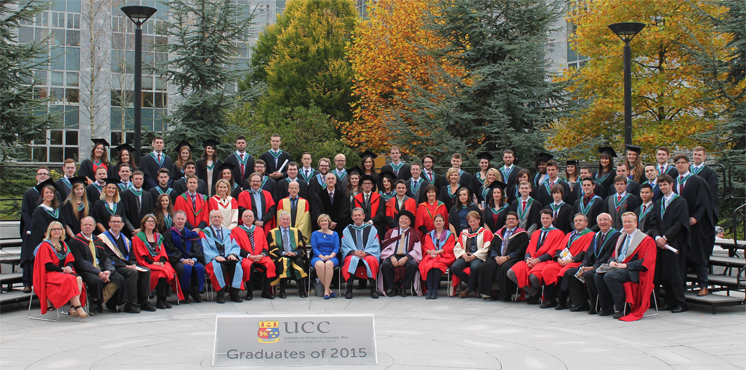 The past two days saw 66 students graduate with BSc (Hons) degrees in Chemistry, Chemistry with Forensic Science, Chemistry of Pharmaceutical Compounds, Science Education and Chemical Physics.
A full list of all students is given below. Well done to all involved.
BSc (Hons) Chemistry
Russel Banta, Paul Buckley, Philip Chan, Daniel Crowley, Shane Daly, Patrick Feeney, Jennifer Halpin, Rebecca Kealy, Colm Keating, Rob Lehane, Roisin McCarthy, Orla McSweeney, Adrian Noonan, Sally O'Donoghue, Conor O'Driscoll, Oliver Pemble, Michael Quirke, Louise Ryan, Maart van Druenen, Lucas Walker, Sarah Walsh.
BSc (Hons) Chemistry with Forensic Science
Ronan Boylan, Roisin Cunningham, Mark Lynch, Alison Mahon, Brian Muldoon, Eilín Ní Chróinín, Vincent O'Brien, Meghan O'Connor, Arianne O'Sullivan, Benjamin O'Sullivan.
BSc (Hons) Chemistry of Pharmaceutical Compounds
Angelika Alabi, Caoimhin Arnott, Finbarr Buckley, Laurie Casey, Ciaran Dalton, Aaran Flynn, Carla Gleeson, Jeremiah Harrington, Christopher Horgan, Áine Kelly, Ryan Kruschel, Beineon O'Connor, Stephen O'Donnell, Julie O'Mahony, Liam Ogden, Eric Rogers, Marie Ryan, Matthew Ryan.
BSc (Hons) Chemical Physics
Cillian Campbell, Luke Daly, Jennifer Dixon, Stephen Mahon, Edmond O'Halloran, Sally O'Hanlon.
BSc (Hons) Science Education
Andrew Bane, Karen Cashman, Jennifer Cassidy, Naomi Curtis, Shane Fleming, Daniel Flynn, Darren Mullins, Aileen O'Mahony, Mark Sugrue.