News 2012
News 2012
A First in Ireland - UCC Chemistry Degrees are now RSC Accredited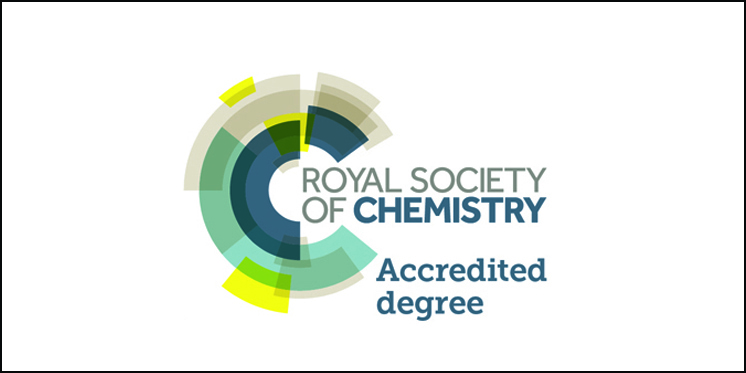 The Department of Chemistry has recently been given professional accreditation by The Royal Society of Chemistry (RSC) for its B.Sc. (Honours) degrees in Chemistry, Chemistry with Forensics (CFS) and in the Chemistry of Pharmaceutical Compounds (CPC).
This accolade represents a significant achievement for the Department as these are now the only RSC-accredited B.Sc. degrees in Chemistry at any Irish university.
One of the roles of the Royal Society of Chemistry is to establish and uphold standards of excellence in chemical education. Graduates from their accredited degree courses satisfy the academic requirement for the award of the professional designation of Chartered Chemist (CChem), as well as the scientific knowledge requirement for registration as a Chartered Scientist (CSci). So the prospects of recognition as a "professional chemist" in industry for our graduating students have been much improved by this important development.
The RSC accreditation process involves a review of all aspects of the course by a panel of expert assessors; this review includes a site visit to inspect the facilities and meet both students and staff of the institution being reviewed. The panel were particularly impressed by the lively and informative discussions with our undergraduates and were left in no doubt that our students not only obtained a first-rate education in chemistry but also enjoyed themselves in the process.
In order to be successfully accredited, the assessment panel must be satisfied that the courses under review are of a high standard both in terms of their intellectual challenge and the competences that they are designed to impart to graduates. Achieving RSC accreditation is an endorsement of the high quality of the three chemistry degree courses mounted in UCC, in terms of the breadth and depth of the topics covered, their modes of delivery, and the training provided to students in all aspects of the chemical sciences, in particular the extensive laboratory skills imparted to the students. No other BSc degree course in Ireland has been thus accredited and we are proud of our achievement.
So in summary this development brings considerable added-value to the courses for graduates of the three programmes. It also enhances the attractiveness of the programmes for overseas students – both those in the UK and further afield.