News 2011
News 2011
UCC Company Recognised as 'Business Ambassador'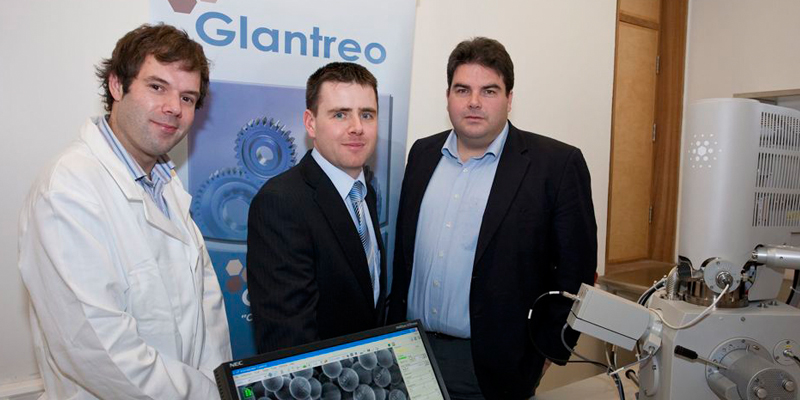 UCC company, Glantreo was one of eight companies in Co Cork to be recognised as InterTradeIreland Business Ambassadors for having excelled in North-South trade and innovation.
The other companies were Exigent Networks from Little Island, Plate Tek from Charleville, Ballinadee Engineering from Bandon, Glenilen Farm from Drimoleague and Radisens Diagnostics from Bishopstown and the SCFI Group from Carrigline.
Glantreo is a high tech materials company that was created to commercialise the materials/science chemical separations research that has been carried out in Irish universities. Founded in 2004, the company has licensed subs2sila from UCC, a process technology for producing highly mono-dispersed sub-2 micron silica porous silica particles. The technology has applications in the high performance liquid chromatography (HPLC) market and also in the next generation of HPLC, which is know as ultra-high-performance liquid chromatography (UPLC).

Minister Richard Bruton TD, Minister for Jobs, Enterprise and Innovation launched the event at which over 80 TDs and Senators attended. Mr Richard Bruton, TD, commented: " Government does not create jobs, people and businesses do; and the role of government is to create an environment in which those businesses can prosper. I am determined to do everything I can to reduce costs, improve access to finance and encourage innovation so that good businesses can expand and create the jobs that our economy and society so badly need. If there is one thing Ireland - north and south - does not lack it is enterprising, creative, hardworking people, and I look forward to working with them to discuss what government and small business together can do to get people back to work".

John Hanrahan, Chief Technical Officer of Glantreo Ltd said: "It was a great honour to be selected as an ambassador for Intertrade Ireland. We have built up strong links with companies in the North and were delighted to be described as ' Champions of the future and leaders of change' by President Mary McAleese." The President hosted a reception at Áras an Uachtaráin for the 'Ambassadors.'

Also speaking at the event, InterTradeIreland Chairman Dr David Dobbin said: "We have supported companies right across Ireland, in every county and constituency and we are extremely proud of the examples of enterprise and innovation that are represented by our group of InterTradeIreland Business Ambassadors. We hope that through highlighting the achievements of successful local SMEs, we will inspire other businesses from throughout Cork to take advantage of cross-border trade and collaboration opportunities."

Since 2003, InterTradeIreland's has helped more than 16,500 companies with cross-border information and services and supported over 2,000 SMEs through its trade and innovation programmes. As a result, in excess of €610 million worth of business value been generated including that from current projects still to complete. In addition, over 930 jobs have been created or sustained through its programmes. For every €1 invested in InterTradeIreland, it provides a ten-fold return in business development value.