News
News
UCC Sport Stars Celebrates another year of incredible success for UCC teams and athletes.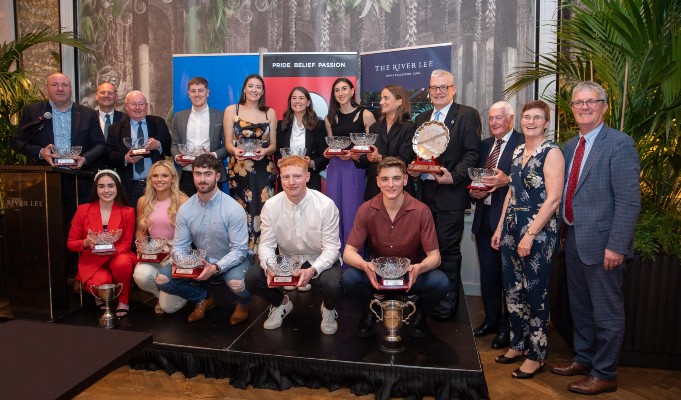 12 athletes selected for UCC Sport Star awards and Kickboxing Champion Conor McGlinchey – selected as overall Sports Star awards.
Billy Morgan and Brian Cuthbert celebrated as Coach of the year and UCC Ladies basketball team win team of the year.
JB McCarthy honoured as Kieran Dowd Recipient for outstanding to Taekwondo and sport in UCC.
The 39th UCC sports star awards was held last night at the river Lee hotel. The awards celebrate the outstanding success and achievements of young teams and athletes participating in sport in UC at a gala dinner sponsored by Bank of Ireland and the River Lee Hotel the 12-sports star year awards were awarded to outstanding athletes from one of the widest fields in recent years. Guest of honour was Dr Orla Farmer UCC and Cork ladies Gaelic Football star.
Commenting on the awards UCC Head of Sport, Morgan Buckley "thanked the athletes, the coaches and all of the volunteers associated with the extensive sports community in UCC we have over 400 volunteers supporting 7000 participants in 51 different sports and this year our teams and athletes have had had outstanding success in a wide range of sports as local regional national and international level these young athletes are balancing there are studies and their commitment to sport and it is phenomenal what they have been able to achieve on all fronts".
UCC Bank of Ireland manager Aileen Broderick said "that Bank of Ireland are delighted to be associated with sport and UCC and these awards it is a sign of the commitment of the bank to supporting and developing young people and engaging in our future generation of athletes and participants and sport".
Ruari O'Connor General Manager of River Lee Hotel said "we are delighted and proud to be associated with UC sport in recognizing the talented generation of young people who are so dedicated and committed to their activities".
President of UCC, Professor John O'Halloran opened the ceremony and said that "sport is a key cornerstone of the student in UCC it provides a tremendous outlet for our students to engage and build a strong community which enhances there are commitment to research and learning we are very proud of our students and how they represent UC and their iconic skull and crossbones brand in many different places we are incredibly proud of these young people their coaches their parents and their communities and this has been a fantastic opportunity to celebrate another season of success our coaches of the year" .
Billy Morgan and Brian Cuthbert were honored for their outstanding achievement and lead in the UCC Sigerson cup team to an incredible success and bringing the famed trophy back to the College. Team of the year is UCC Ladies Basketball team went on an incredible journey supported by coach Mark Scannell to win the league and 3rd level championships for the first time since 2011. Athlete of the year is Conor McGlinchey who has performed at the European and world stage and kickboxing and is currently number 3 in his weight division in the world and second in Europe!"
UCC SPORTS STAR AWARD 2023 SUMMARY RECIPIENTS
INDIVIDUAL (12)
| | |
| --- | --- |
| Sport | Athlete |
| Athletics | Rugby Millet |
| Basketball | Amy Dooley |
| Camogie | Laura Hayes |
| Equestrian | Michelle O Driscoll |
| Gaelic Football | Jack Murphy |
| Hockey | Caoimhe Purdue |
| Kickboxing | Conor McGlinchey |
| Olympic Weightlifting | Shane Roche |
| Rowing | Margaret Cremen |
| Rowing | Paul O Donovan |
| Rugby | Sean Condon |
| Sailing | Johnny Durkan |
Team Of Year: UCC Women's Basketball Team
Coach of The Year: Billy Morgan and Brian Cuthbert
Kieran Dowd Award: JB McCarthy