News
News
UCC Sport staff recognised at UCC Long Service Awards
Deputy Head of Sport, Christine O Donovan and Exercise Physiologist, Trevor Woods were recognised for their 35 and 25 year, respectively, service to UCC and in particular to UCC Sport Physical Activity.
Both are the back bone to UCC Sport, always on hand to work with and assist students and clubs during their UCC journey.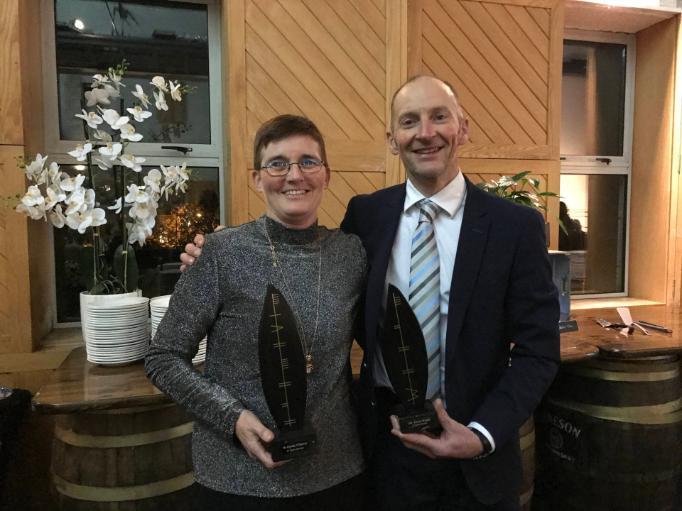 At the 34th Annual Long Service Awards 2022 Ceremony took place Tuesday 22nd November 2022. UCC celebrated and acknowledged the work and contribution of 79 colleagues, who have 25 and 35 years' service in the University.
Let us join together, as a UCC community, to recognise and applaud our colleagues for reaching this noteworthy milestone. Congratulations to each and every one of you.
Please find below the names of your colleagues receiving awards.
35 Year Awards
| | | |
| --- | --- | --- |
| Compagno | Tony | Tyndall National Institute |
| Cotter | Mary | School of Microbiology |
| Daly | Deirdre | Graduate Studies Office |
| Donnelly | Ray | Accounting and Finance, CUBS |
| Hayes | Mary | Department of Pathology |
| Hill | Margo | Student Records and Examinations |
| Houston | Dermot | Tyndall National Institute |
| Kavanagh | Richard | Electrical and Electronic Engineering |
| Lynch Fannon | Irene | School of Law |
| Moynihan | Noreen | School Of Pharmacy |
| O'Donovan | Christine | Sport and Physical Activity |
| Teehan | Virginia | President's Office |
25 Year Awards
| | | |
| --- | --- | --- |
| Ahern | Mary | School of Education |
| Ahern | Therese | School of Nursing & Midwifery |
| Blackshields | Daniel | Economics, CUBS |
| Bolado-Colina | Eugenia | Department of Spanish, Portuguese and Latin American Studies |
| Braddell | Ondine | Tyndall National Institute |
| Brennan | Desmond | Tyndall National Institute |
| Bridge | Derek | School of Computer Science and Information Technology |
| Cahill | Garret | Boole Library |
| Campbell | Aisling | Department of Psychiatry |
| Corcoran | Brian | General Services |
| Cotter | Jer | Tyndall National Institute |
| Cotter | Liam | IT Services |
| Crossan | Lorraine | Centre for Gerontology and Rehabilitation |
| Daly | Anne C. | Biosciences Institute (BSI) |
| Dawson | Ciaran | Ionad Na Gaeilge Labhartha |
| Deady | Noirin | Admissions Office |
| Deasy | Madeline | Disability Support |
| Hawkes | Nancy | Office Of Marketing And Brand Impact |
| Herbert | John | School of Computer Science and Information Technology |
| Hogan | Aideen | Alumni and Development |
| Kavanagh | Catherine | Economics, CUBS |
| Kiely | Mairead | School of Food and Nutritional Sciences |
| Lightbody | Gordon | Electrical & Electronic Engineering |
| Lyden | Nuala | University Dental School and Hospital |
| MacHale | Peter | School of Computer Science and Information Technology |
| Mackrill | John | Department of Physiology |
| McSweeney | Siobhan | University Dental School and Hospital |
| McSweeney | Mary | Student Records and Examinations |
| Moriarty | Clodagh | General Services |
| Morrissey | Ivan | Business Information Systems, CUBS |
| Mortell | Siobhan | Department of German |
| Mulcahy | Derek | University Dental School and Hospital |
| Mullane McLauchlan | Mona | Centre For Policy Studies |
| Murphy | Diane | Admissions Office |
| Murphy | Richard | Tyndall National Institute |
| Ní Loingsigh | Máiréad | Nua Gaeilge |
| O'Brien | Kate | College Of Science, Engineering and Food Science |
| O'Brien | Christina | Student Health & Well Being |
| O'Connell | Denis | IT Services |
| O'Connor | Rosemary | School Of Biochemistry and Cell Biology |
| O'Donnell | Paul | School of Film, Music & Theatre |
| O'Keeffe | Anne | Tyndall National Institute |
| O'Keeffe | Donal | University Dental School and Hospital |
| Ó Mathúna | Cian | Tyndall National Institute |
| O'Sullivan | Barry | School of Computer Science and Information Technology |
| Perry | Ivan | School of Public Health |
| Pettit | Colette | School of History |
| Pitt | Ian | School of Computer Science and Information Technology |
| Power | Bernadette | Economics, CUB |
| Quishi | Xie | Aquatic Services Unit |
| Rafferty-McArdle | Susan | APC Microbiome Ireland |
| Redmond | Henry Paul | Department of Surgery |
| Rogan | Emer | School of Biological, Earth and Environmental Sciences |
| Ryan | Geraldine | Accounting and Finance, CUBS |
| Scallan | Martina | School of Microbiology |
| Scanlon | Rosemarie | IT Services |
| Scully | Jim | Tyndall National Institute |
| Sheehan | Paul | IT Services |
| Shorten | George | Department of Surgery |
| Siles | Ana | Department of Spanish, Portuguese and Latin American Studies |
| Timon | Derbhile | School of Computer Science and Information Technology |
| Twomey | Emer | Boole Library |
| Waldron | David | School of Food and Nutritional Sciences |
| Whelan | Darius | School Of Law |
| Woods | Trevor | Sport and Physical Activity |
| Wright | William | Mechanical Engineering |