IRIU News
IRIU News
The Review Signpost 5
Check out our latest Review Signpost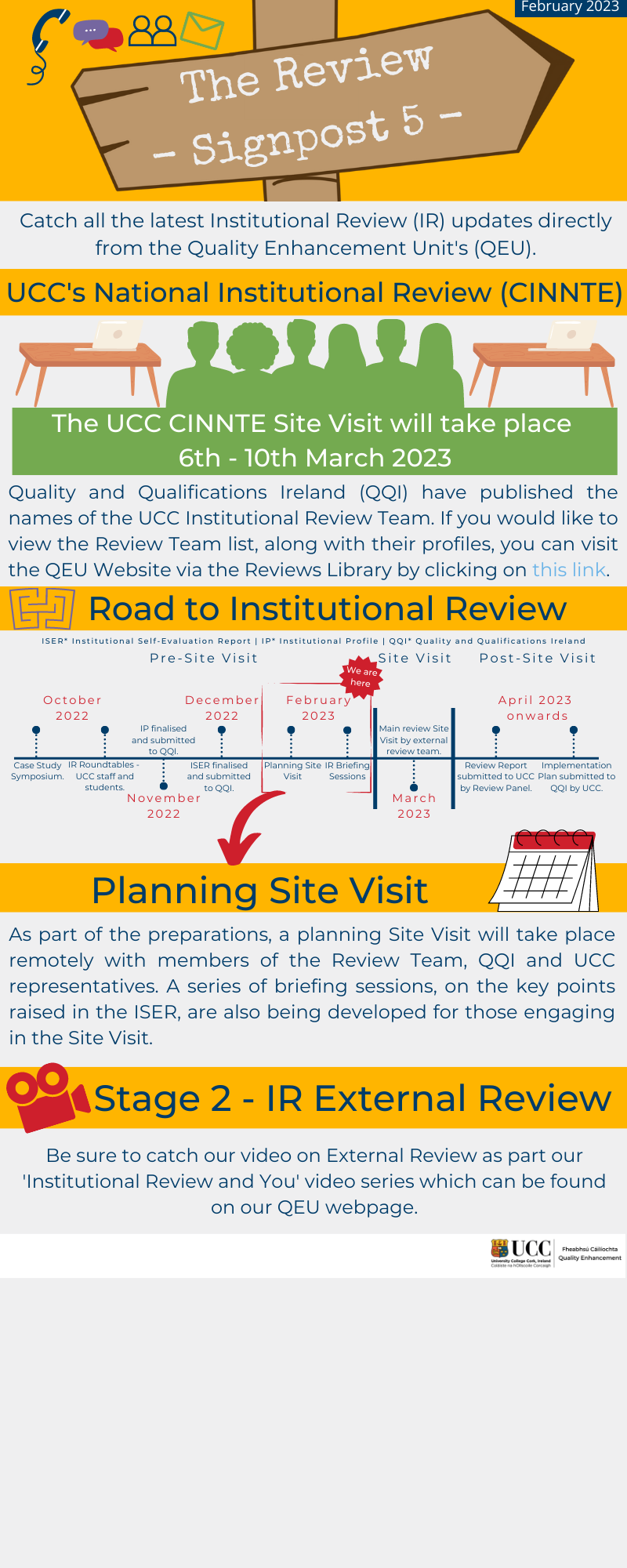 Quality Enhancement Unit
The Review Signpost 5
Catch all the latest Institutional Review (IR) updates directly from the Quality Enhancement Unit's (QEU).
UCC's National Institutional Review (CINNTE)
The UCC CINNTE Site Visit will take place 6th - 10th March 2023
Quality and Qualifications Ireland (QQI) have published the names of the UCC Institutional Review Team. If you would like to view the Review Team list, along with their profiles, you can visit the QEU Website via the Reviews Library by clicking on this link.
Road to Institutional Review
Abbreviations:
ISER – Institutional Self-Evaluation Report
IP – Institutional Profile
QQI – Quality and Qualifications Ireland
Pre-Site Visit
October 2022
Case Study Symposium.
IR Roundtables - Consultation with UCC staff and students.
December 2022
IP finalised and submitted to QQI
ISER submitted to QQI (We are here).
February 2022
Planning Site Visit
IR Briefing Sessions
Site Visit
March 2023
Main review Site Visit by external Review Team
Post-Site Visit
April 2023 onwards
Review Report submitted to UCC by Review Panel.
Implementation Plan submitted to QQI by UCC.
For a more detailed timeline of the Road to Institutional Review, visit the QEU webpage.
Planning Site Visit
As part of the preparations, a planning Site Visit will take place remotely with members of the Review Team, QQI and UCC representatives. A series of briefing sessions on the key points raised in the ISER are being developed for those engaging in the Site Visit.
Stage 2 - IR External Review
Be sure to catch our video on External Review as part our 'Institutional Review and You' video series which can be found on our QEU webpage.