IRIU News
IRIU News
Review Signpost 6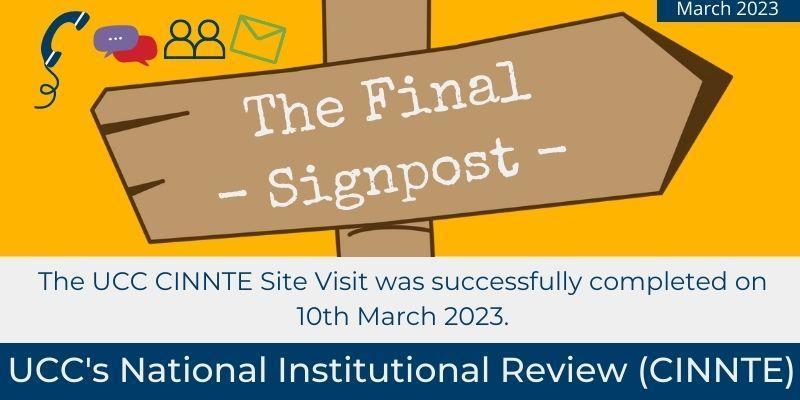 The Site Visit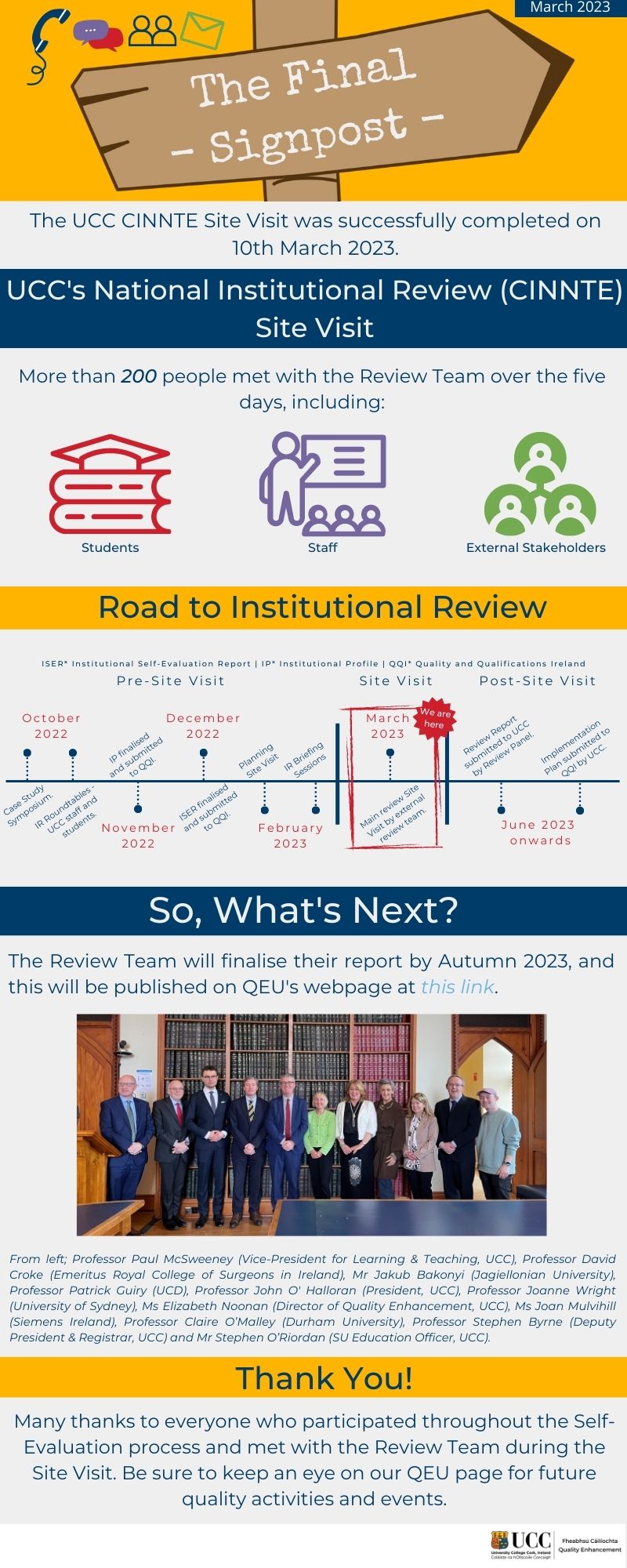 Quality Enhancement Unit
The Final Signpost
The UCC CINNTE Site Visit was successfully completed on 10th March 2023.
UCC's National Institutional Review (CINNTE)Site Visit
More than 200 people met with the Review Team over the five days, including: Students, Staff & External Stakeholders.
Road to Institutional Review
Abbreviations:
ISER – Institutional Self-Evaluation Report
IP – Institutional Profile
QQI – Quality and Qualifications Ireland
Pre-Site Visit
October 2022
Case Study Symposium.
IR Roundtables - Consultation with UCC staff and students.
December 2022
IP finalised and submitted to QQI
ISER submitted to QQI (We are here).
February 2022
Planning Site Visit
IR Briefing Sessions
Site Visit
March 2023
Main review Site Visit by external Review Team
Post-Site Visit
June 2023 onwards
Review Report submitted to UCC by Review Panel.
Implementation Plan submitted to QQI by UCC.
For a more detailed timeline of the Road to Institutional Review, visit the QEU webpage.
So, What's Next?
The Review Team will finalise their report by Autumn 2023, and this will be published on QEU's webpage.
Photo from left; Professor Paul McSweeney (Vice-President for Learning & Teaching, UCC), Professor David Croke (Emeritus Royal College of Surgeons in Ireland), Mr Jakub Bakonyi (Jagiellonian University), Professor Patrick Guiry (UCD), Professor John O' Halloran (President, UCC), Professor Joanne Wright (University of Sydney), Ms Elizabeth Noonan (Director of Quality Enhancement, UCC), Ms Joan Mulvihill (Siemens Ireland), Professor Claire O'Malley (Durham University), Professor Stephen Byrne (Deputy President & Registrar, UCC) and Mr Stephen O'Riordan (SU Education Officer, UCC).
Thank You!
Many thanks to everyone who participated throughout the SelfEvaluation process and met with the Review Team during the Site Visit. Be sure to keep an eye on our QEU page for future quality activities and events.