News and Events
News and Events
Upcoming event: "UCC School of Law in Conversation With…"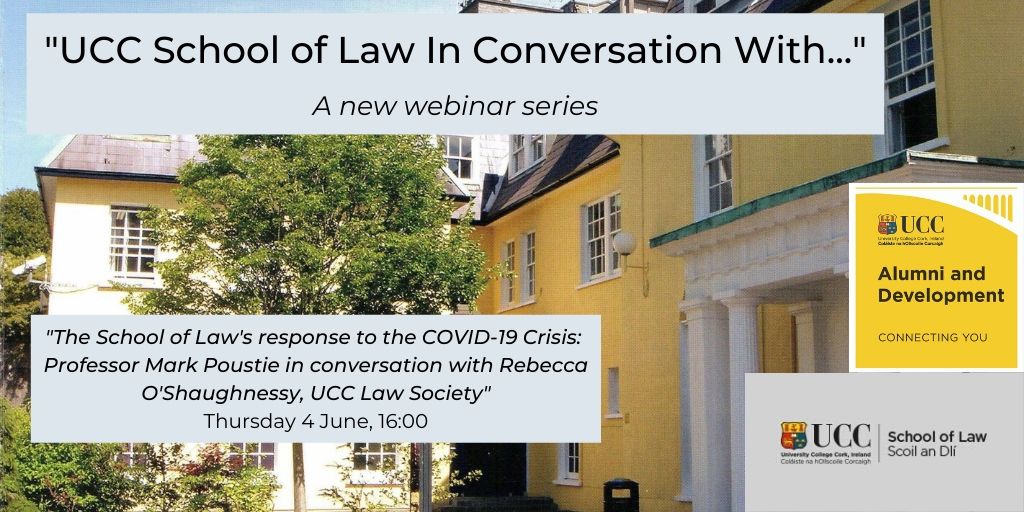 Join us for the first of a new series of webinars on Thursday 4 June, 16:00-17:00
In these challenging times of social distancing, it is more important than ever to stay connected.
That's why the School of Law is launching a new webinar series, aimed at staying in touch with our alumni and friends in Cork, Ireland and worldwide. Over the coming months, we will bring you a series of insightful conversations and Q&As with a range of interesting speakers from our student and alumni community.
The first webinar – 'Professor Mark Poustie in conversation with Rebecca O'Shaughnessy' - will be broadcast on Thursday 4 June from 16:00-17:00 IST. This webinar will feature a conversation between the Dean of the School of Law, Professor Mark Poustie, and the incoming Auditor of the UCC Law Society, Law and Business student Rebecca O'Shaughnessy.
The focus of the conversation between Professor Poustie and Ms O'Shaughnessy will be on the School of Law's response to the COVID-19 crisis, including:
How lectures, tutorials and exams were moved online following the university closure,
Research and advocacy work within the School in response to the COVID-19 situation, and
The student experience of studying and sitting exams during a global pandemic.
Professor Poustie and Ms O'Shaughnessy will also look ahead to the coming academic year, and consider how the School of Law and UCC Law Society will begin to settle into the "new normal". The conversation will be followed by a Q&A session where attendees will have the opportunity to ask questions of our speakers.
Attendance at this webinar is free and all are welcome. To register, please visit https://www.eventbrite.ie/e/ucc-school-of-law-in-conversation-with-webinar-series-tickets-106073161682