News and Events
News and Events
Upcoming Book Launch: New edited collection to be launched as part of the Director's Seminar Series in Institute of Advanced Legal Studies, Russell Square, London - 19th October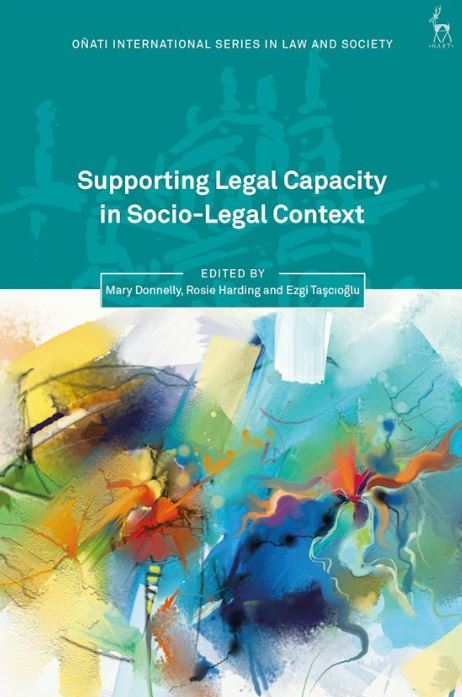 The book, Supporting Legal Capacity in Socio-Legal Context is jointly edited by Professor Mary Donnelly of the School of Law, UCC; Professor Rosie Harding, University of Birmingham and Dr Ezgi Taşcıoğlu, Keele University is published by Hart Publishing and has contributions from authors from Canada, Finland, India, Ireland, Spain, Sweden, Turkey and the UK.
Describing the aims of the book, the editors write:
'We hope that this collection will help to shift academic discourse on legal capacity towards equality, justice and fairness, whilst also being attentive to the importance of trust, protection and safeguards against abuse. We hope, too, to showcase the contribution of socio-legal methodologies in developing an evidence-base for the enhanced delivery of the right to legal capacity'.
Reviewing the book, Alex Ruck Keene, Hon KC writes:
'This book 'has something for (almost) everyone, whether you be student, researcher, activist, law-maker, clinician, social worker, philosopher or lawyer, and whether you be a newcomer to these debates or steeped in the arcana of "100% supported decision-making'.
His full review can be read at: Book review: Supporting Legal Capacity in Socio-Legal Context – Mental Capacity Law and Policy
The book launch will be held on Wednesday 19 October at 14:00 at the Institute for Advanced Legal Studies with talks by the three editors as well as Professor Beverley Clough, University of Manchester; Alex Ruck Keene, Hon KC; and Dr Margaret Flynn, Chair of the National Mental Capacity Forum. Admission is free but advance booking is required.
Full details are available at https://ials.sas.ac.uk/events/event/26516