News and Events
News and Events
UCC School of Law PhD Candidates Take to the Online Stage at Prestigious Environmental Research Conference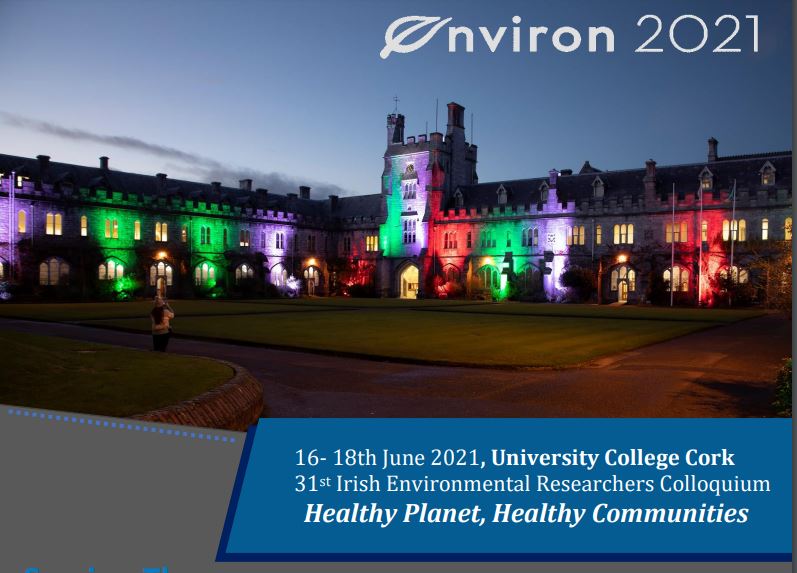 Two PhD candidates from the UCC School of Law recently presented at the 31st Irish Environmental Researchers Colloquium (Environ 2021).
The prestigious conference, held online this year (16 – 18 June) and organised by the Environmental Research Institute at University College Cork in collaboration with the Environmental Sciences Association of Ireland (ESAI), is the longest running and largest forum for environmental researchers in Ireland. It provides a high-visibility platform for young and experienced researchers to present their findings to an audience drawn from academia, government bodies and agencies, as well as industry. This year's conference focused on the theme of "Healthy Planet, Healthy Communities".
Rhoda Jennings and Alison Hardiman, PhD Candidates at the UCC School of Law, both delivered presentations at the conference. Rhoda's presentation was on the science of the precautionary principle in EU environmental law, an element of her broader research project which investigates how scientific evidence is used in environmental law.
Alison presented on Public Participation in the EIA Project Authorisation Process from the perspective of renewable energy infrastructure projects. Alison notes a particular opportunity offered to presenters in advance of the conference:
Part of the package upon signing up to speak at this conference was the opportunity to attend a talk by Hugh Kearns on effective presentation of your research. With precisely 12 minutes to speak and a wide ranging audience, it was necessary to be clear and brief so Hugh's advice regarding fewer slides with less text was very effective, as was his recommendation that you focus on a couple of key 'takeaways' for the audience.
Clearly, this talk by Hugh Kearns was effective, as Alison went on to win the "ESI Best Social Engagement Presentation" at the conference! Well done, Alison!
Commenting on the experience of presenting at Environ 2021, Rhoda Jennings said:
I was delighted to be able to participate in Environ2021, the leading environmental researcher colloquium in Ireland. The conference has been running for 31 years and showcases the best of Irish environmental talent. It was especially wonderful to be able to contribute this year as the conference was jointly hosted online by the Environmental Research Institute at University College Cork along with the Environmental Sciences Association of Ireland (ESAI).

The broad range of topics covered in the colloquium highlighted the interdisciplinary nature of environmental research and the importance of collaboration across disciplines.
Alison Hardiman added:
Overall, it was a very positive experience and a great opportunity to test some tentative, preliminary conclusions in a supportive environment. The big lesson for me was how little you can actually cover in such a short timeframe and therefore to be more focused and realistic with my Abstract next time!
Further information
Information on Environ 21 is available here: http://www.esaiweb.org/environ/