News and Events
News and Events
UCC School of Law hosts International Summer School with University of Montana Alexander Blewett III School of Law.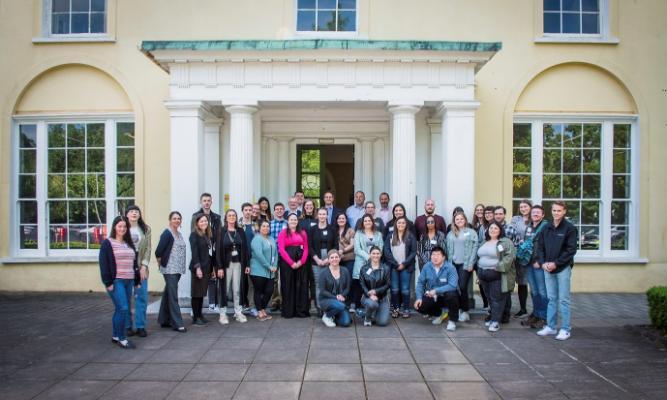 Based in Áras na Laoi, UCC, the International Summer School ran over two weeks, with students from both The University of Montana and University College Cork attending.
The International Law Summer School, hosted jointly by UCC School of Law and University of Montana Alexander Blewett III School of Law, commenced on 27th May 2022. Running over two weeks, participants explored a range of themes including US, EU and Irish Constitutional Law, International Environmental Law and Negotiation Skills. University of Montana staff and students were accompanied by lawyers from the State Bar of Montana.
The Summer School gave students the unique opportunity to engage with internationally renowned scholars and for UCC and UM students to work together on global legal issues. The Summer School concluded with a simulated Climate Conference of the Parties and simulated US and EU legislative processes to implement the instrument agreed.
The programme was co-taught by UCC and UM faculty, with Dr Seán O'Conaill, Prof. Owen McIntyre, Mr. Declan Walsh, Dr Shaoming Zhu and Prof. Mark Poustie from UCC, and Prof. Michelle Bryan, Prof. Anthony Johnstone, Prof. Sam Panarella, and Dr Sara Rinfret from UM.
The Summer School came to a successful conclusion on Friday 10th June with a visit from UCC President Professor John O'Halloran.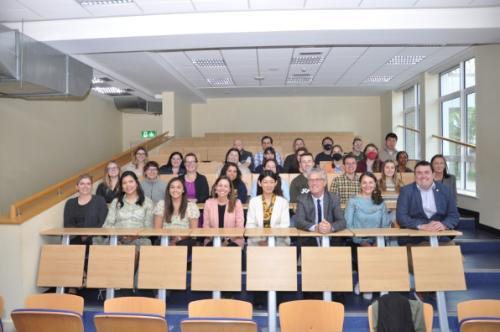 UCC President Professor John O'Halloran joined Staff and Students from UM School of Law & UCC School of Law to conclude the Summer School
Professor Mark Poustie, Dean of the UCC School of Law reflected:
We are delighted to have hosted this Summer School with UM and it shows what we can achieve in the field of internationalisation. I hope this will be the first of many such Summer Schools between UM and UCC whether in Montana or in Ireland providing students from each institution with new insights and perspectives as well as enabling new friendships to flourish and deepening the ties between faculty from UCC and UM.