News and Events
News and Events
Students compete for James D Donegan Memorial Prize at first ever hybrid Annual UCC School of Law Gala Moot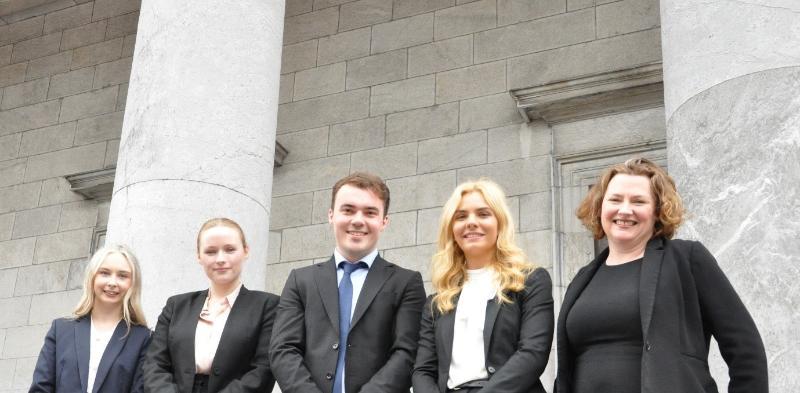 This year's Moot competition was held on Thursday 2nd June 2022 in the historic Court number 1 of the Cork City Courthouse on Washington Street. Four students from the UCC School of Law participated in this year's Gala Moot incorporating the James D Donegan Memorial Prize.
Ms. Eva McCarthy and Ms. Charlotte Robbins-Fehily presented the case for the Appellants, while Ms. Anne-Marie O'Mahony and Mr. Michael O'Donovan acted as counsel for the Respondents. The case involved an appeal and a cross-appeal.
The students presented and defended legal submissions before Her Honour Judge Helen Boyle. An audience of students and staff of the school attended the court proceedings, both in person and online. Professor Mark Poustie, Dean of the School of Law provided closing remarks.
The Gala Moot incorporates the James D. Donegan Memorial Prize, which is awarded each year to the student who, in the opinion of the judge, should be awarded the prize of 'outstanding speaker'. The prize was generously donated again this year, by S. Donegan & Co. Solicitors, Cobh, Co. Cork, who have supported the Gala Moot and sponsored the prize for many years. Ms. Anne-Marie O'Mahony was this year's recipient of the prestigious prize.
It was a special honour for the students this year, to appear before Judge Boyle, an alumna of UCC and recent recipient of the Alumni Achievement Award from her alma mater, UCC.
Pictured below: Anne-Marie O'Mahony, UCC and Sally Donegan, S. Donegan & Co. Solicitors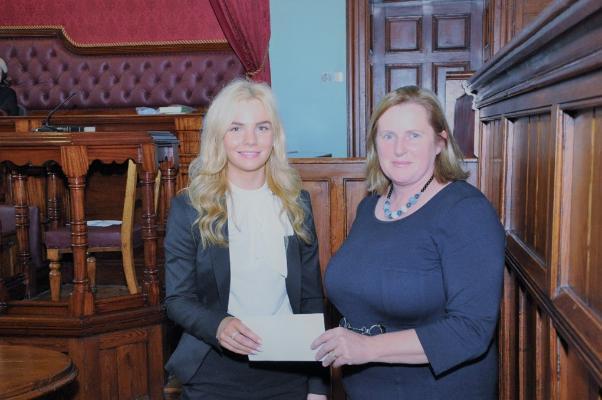 UCC School of Law and their students extend their thanks to Her Honour Judge Helen Boyle, the staff at the courthouse and Sally Donegan & Co. Solicitors who made this annual event a possibility for the students again this year.
Speaking following the Moot, the students said:
Anne-Marie O'Mahony: "I thoroughly enjoyed competing in the Gala Moot and can safely say it was one of the highlights of my University experience. Many thanks to Ms Colette O'Donovan and Ms Cara-Jane Walsh for their guidance and support throughout the whole competition, and to S. Donegan & Co solicitors for the generous prize. Participating in this competition has confirmed my aspiration to become a barrister, and to strengthen my advocacy skills to represent those who need it. Getting to present a case before Ms Justice Boyle was both an honour and a privilege which I am very thankful for. "
Michael O'Donovan: "It was both an honour and a privilege to have been afforded the opportunity to moot before the Hon. Ms. Justice Helen Boyle in the UCC Gala Moot. I would like to express my sincere gratitude to Ms. Colette O'Donovan, whose counsel in the lead up to the final was invaluable. The Gala Moot will certainly stand out as a highlight as I reflect upon my time studying in UCC. "
Charlotte Robbins Fehily: "It was an absolute honour to participate in the 2022 UCC Gala Moot. I have gained so much from this experience, and I am truly grateful to all of those who made this event possible, particularly Colette O'Donovan who was always happy to offer her guidance wherever needed along the way. "
Eva McCarthy: "With no prior mooting experience, it was an honour to have been selected to take part in this year's Gala Moot. Presenting an argument in the Courthouse on Washington street before Ms. Justice Boyle was thoroughly enjoyable and a truly memorable experience. I would also like to thank Colette O'Donovan for all the time and support she gave us in the run up to the event. "
Her Honour Judge Helen Boyle said:
"It was an honour to judge the moot final, particularly in one of the wonderful courtrooms in Washington Street Courthouse. The standard from the students was really high, in terms of preparation, argument and presentation. The students handled the judicial questions like professionals!"
Professor Poustie said:
"It was great that the Gala Moot was back in person this year. Mooting provides a fantastic opportunity for our students to experience how to prepare and present a case and, in the Gala Moot, to do that in front of a real judge. This is a really invaluable experience whether or not students intend to go into court practice in the legal profession. The high quality of this year's moot really stands out and my congratulations to all the mooters and particularly to Anne-Marie O'Mahony for securing the James D Donegan Prize for Outstanding Speaker with a tremendous performance. Many thanks to all my colleagues involved at every stage of the Moot Modules and all those who ensured the Gala Moot ran so smoothly and successfully including, notably, Colette O'Donovan, the court staff and Her Honour Judge Helen Boyle."
The Annual Gala Moot is organised by Ms. Colette O'Donovan, Part-time Lecturer from the School of Law. Speaking following the competition, Ms. O'Donovan said:
"The Gala Moot was, as always, the result of a team effort of colleagues at the School of Law. It was my privilege to work with students again this year, who were chosen from among their peers in the Moot Modules. It was particularly special this year to be back in person in Court 1, which would not have been possible without the extraordinary effort of the court staff and Her Honour Judge Helen Boyle, at a very busy time in the court calendar. Congratulations to all of the participants and in particular Ms. Anne-Marie O'Mahony was awarded the prize of 'Outstanding Speaker'. We are also very grateful to Kieran O'Sullivan of Matheson Solicitors who contributed to the essential final preparations."
Pictured below: Eva McCarthy, Charlotte Robbins-Fehily, Michael O'Donovan, Anne-Marie O'Mahony, with faculty members of the School of Law and Sally Donegan, S. Donegan & Co. Solicitors